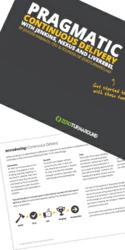 In today's application deployments, Operations engineers frequently don't know which version is deployed or if all the tests passed. Srsly?
(PRWEB) July 19, 2012
ZeroTurnaround, creators of the award-winning products JRebel and LiveRebel, has started a vicious campaign against inefficient, error-prone manual production updates for live applications. Their newest weapon: Pragmatic Continuous Delivery with Jenkins, Nexus and LiveRebel, a practical guide that harnesses the theory of Continuous Delivery for implementing an automated, trackable production delivery pipeline using commercial and open source tools available right now.
"Rather than publishing a report on why manual processes are bad and why Continuous Delivery/Deployment is good, we decided to create a tutorial that engineers can actually use," commented Jevgeni Kabanov, CEO of ZeroTurnaround, and author of the tutorial.
The 22-page tutorial and accompanying 1-hour video presentation will guide readers step-by-step into building a Continuous Delivery pipeline for actual use cases in a realistic environment – using tools like Jenkins, Nexus, LiveRebel and others readily available right now.
"What really angers my monkey about today's deployments is that frequently no one knows a) which version was deployed, b) if all the tests passed c) how was it packaged or deployed. It's not automated, transparent or predictable, and this is what we like to see," remarked Toomas Römer, Director of Engineering at ZeroTurnaround.
It turns out that, despite the best attempts of Dev/Ops fan meetups and IT gurus keen to offer their view on Continuous Delivery/Deployment, a recent survey on Production Deployments shows that the vast majority of organizations' deployment pipelines still rely heavily on manual processes - which, of course, tend to be prone to human error, inconsistencies and generally move things out the door a lot slower.
"The industry has been witnessing buzz around Continuous Delivery and Continuous Deployment for nearly six years, and bosses are already asking some tough questions about upcoming plans to implement and automate deployment pipelines. Now is the time to jump on it," continued Kabanov.
The full report can be downloaded on the ZeroTurnaround website.