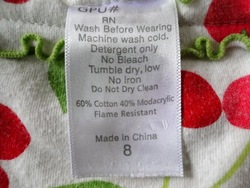 When exercising, the chemical residues in the fabric are worn tight against our skin while our pores are open and our circulation peaks.
New York, NY (PRWEB) March 11, 2010
Like organic food, organic clothing is not only important for the environment, but also for the health of the consumer. Conventional clothing has chemical residues which can be absorbed into your system, especially while exercising.
"No one talks about the dangers of all the chemicals used in clothing today," explains Sevda Holland, co-founder of Prancing Leopard Organics. "When exercising, the chemical residues in the fabric are worn tight against our skin while our pores are open and our circulation peaks. We feel the public has a right to know."
It is a little known fact that Phthalates, Formaldehyde and other chemicals from the food and health discussion are widely used in clothes, too. One sign is the new-clothes smell and the itchiness. Chemical treatments are omnipresent in fabrics, especially in anti-bacterial, moisture-wicking, wrinkle resistant, flame resistant or stain resistant clothing. There are pesticide and herbicide residues in conventional cotton. Myriads of chemicals are used to manufacture synthetic fabrics.
It is not enough to wash clothes repeatedly with low-impact detergent – many of these chemical residues are bound to the clothing fibers by heat treatment or are activated by sweat.
"Orange you Glad we're not Yellow, but Green" - this is the catchphrase Prancing Leopard Organics is using for the info campaign they are starting on this issue. The all-organic clothing manufacturer observes we all tend to be too yellow – we'd rather not know the dirty details of the clothing business but instead we focus on fast fashion and cheap prices.
Prancing Leopard Organics is reaching out to the blogosphere, social media and conventional media to open up the discussion. They will begin a series of weekly info pieces on this and how fashion, exercise, health, environment, socialresponsibility and lifestyle are interrelated. Prancing Leopard invites contributors to use the "Orange you Glad" webpage to post information and opinions. The info campaign is complemented by full-page ads in health magazines targeting Nike and LuluLemon buyers.
The increasing concern about environmental toxins is reflected in the popularity of the new book "Slow Death by Rubber Duck" by Bruce Lourie and Rick Smith, which Prancing Leopard suggests as a good info source.
"Organic clothing is where organic food was a decade ago," reminds Sevda Holland. "Now that people are beginning to realize the health benefits, organic clothing is taking off. We believe it all starts with fitness clothing for the health-oriented. That is why we focus on organic cotton clothing for yoga, Pilates, dance and fitness."
"Exercising is all about health and enjoying life. Just like your food, your clothing should be healthy and free from harmful chemicals," proposes Sevda Holland. "We create new styling and patterns which take advantage of natural materials instead of synthetics. Clothes that are fashion forward, styled to fit and to forgive, and made of organic materials."
More and more people turn to yoga or Pilates or dance, both in order to center themselves and to maintain health and fitness. As people begin to bring yogic principles into their lives, they long for clothing which is natural and at peace with the world. Comfort is a major concern because clothing can really get in the way of practice.
And of course modern lifestyles flow from office to practice to the café without disruption. Retailers report increasing demand for flattering, fashion forward clothing which also works in the studio.
Prancing Leopard Organics is a sustainable, fashion forward and philanthropic apparel company inspired by Yoga, Pilates and Dance and dedicated to organic and eco-conscious living. Prancing Leopard clothing is sold online at http://www.PrancingLeopard.com and at studios, spas and fashion stores worldwide. Learn more about organic cotton, social responsibility and Prancing Leopard's philanthropic activities such as the Women Artisan Project and the Snow Leopard Trust at http://www.PrancingLeopard.org.
Media Contact: Gloriana Galdemez, Prancing Leopard LLC, 1-800-645-1372
# # #