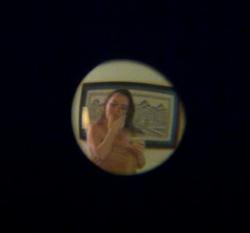 The peepholes found in apartment and hotel room doors don't protect people's privacy.
San Francisco, CA (PRWEB) May 21, 2012
The peepholes found in apartment and hotel room doors don't protect people's privacy, leading Pratorio to develop a simple and effective peephole upgrade that provides the protection people deserve. It only takes about 15 seconds for a privacy invasion to take place through a door peephole which - as Erin Andrew's experienced in 2009 - can lead to devastating emotional trauma and high litigation costs.
After many months of development, Pratorio is excited to announce the release of the Pratorio Guard on Indiegogo. Based on consumer and hospitality industry requests, Pratorio's proprietary design is both elegant and functional. Utilizing a mirrored lens and a magnetic face to support a series of decorative, collectible cover Shields, the Pratorio Guard can be easily integrated into the most discerning and sophisticated properties' doors.
"In the United States, approximately 3 million people stay at hotel and resort properties every day and peace of mind should never be a point of concern during those times of excitement and pleasure," said Matthew Gomez, Pratorio's founder. "On top of that, anyone with a peephole in their door at home deserves protection that works. My sister was harassed in an apartment with an unsecured peephole and it doesn't have to be that way."
Pratorio has launched a campaign on Indiegogo to raise funds to manufacture Pratorio Guards for individuals and will begin to work with hotel and resort properties to develop customized packages soon. "In addition to providing increased room security, each Pratorio Shield will be a collectible brand extension and marketing tool for each property and I'm looking forward to speaking with hotels about the future possibilities Pratorio can provide," said Gomez.
About Pratorio:
Pratorio is grounded in the belief that everyone deserves the right to control who they let into their life. Seeking to protect people from privacy invasion, Pratorio is working with consumers and hotels to increase the "standard" of personal security.
Pratorio Guards can be pre-ordered on Indiegogo at http://www.indiegogo.com/pratorio.