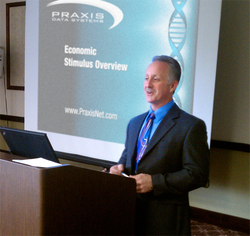 Leverage Federal stimulus dollars to increase efficiency of medical practices
Gibbsboro, NJ (PRWEB) February 10, 2011
Praxis Medical Systems – a specialty practice within the Philadelphia area's leading IT service provider, Praxis Data Systems – today announced full availability of its new electronic medical record (EMR) solution. Uniquely designed to improve overall efficiencies of medical practices by transitioning day-to-day office operations to an electronic-based medical records process, the Praxis EMR is also "Federal Stimulus Ready."
The U.S. Federal government is offering substantial incentives including more than $20 billion as part of the American Recovery & Reinvestment Act (ARRA). These incentives are available to Medicare and Medicaid providers who are "meaningful users" of certified EMR technology.
"Our solution helps physicians rethink how their practices are being run," said Harry Srolovitz, president of Praxis Data Systems during a recent presentation to area doctors. "It enables doctors to revitalize how they engage their patients ultimately leading to more effective health care."
Improve Efficiency and Patient Care
EMR is a software database application designed to organize and improve medical office workflow. Each phase of the patient encounter can be duplicated by the electronic medical records system – increasing efficiency, productivity, and revenue. Migration to EMR is now taking place at practices throughout the country as physicians are responding to new government requirements that include penalties for not deploying EMR within practices by 2015.
Among features that the Praxis Medical System EMR solution offers is a simple-to-view dashboard that provides a clear view of the doctor's practice – a once click approach to find, view and work with the most critical patient information. From this "doctor dashboard" physicians and administrators can track patient location from admission to discharge; access and share daily schedules and calendars; and order labs and refill prescriptions.
"You need an easy-to-use interface to work with or you'll never use an EMR," said Marlton-based family physician, Dr. Sloan Thompson, a presentation attendee. "This solution form Praxis accomplishes exactly that. It's the best I've seen."
For details on the Praxis Medical Systems EMR, physicians and office administrators can go to http://www.PraxisMedicalSolutions.com.
About Praxis Data Systems
Since 1987, Praxis has been helping New Jersey businesses, medical practices and organizations make the most of their technology. Its mission and its goal is to provide an "Exceptional Experience" and deliver efficient, affordable technology systems that allow our clients to concentrate on their business. For more information about Praxis Data Systems, go to http://www.PraxisMedicalSolutions.com.
###