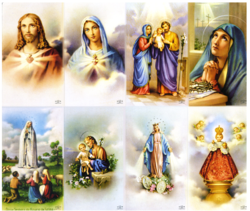 "We understand that every family is different in terms of their budget and needs, so we like to offer a variety of different ways to use our products"
(PRWEB) October 10, 2012
Prayer cards have often been used to distribute at a funeral or memorial service. These type of keepsake items provide families and guests a tangible memorial that is brought home from the final celebration of life.
Although there are a large number of companies that offer the printing of prayer cards online, you can easily create them from your home computer. The Funeral Program Site, a leader in the funeral templates industry now offers several different types of prayer card templates a consumer can download.
The company offers templates with pre-designed background displaying various themes which print out on white card stock paper. There is also prayer card paper that can be purchased, customized and printed on a home printer. There are many options for the consumer who is currently undergoing the funeral planning process. Unlike most online companies, The Funeral Program Site always provides choices for customers.
"We understand that every family is different in terms of their budget and needs, so we like to offer a variety of different ways to use our products", shares Carole Galassi, founder and CEO.
The preprinted paper prayer cards are fully customizable on the back with designs pertaining to religious Catholic, Landscape, or Career oriented background images on the front. The cards can be laminated for a longer lasting keepsake, if desired or printed just as it is. With every family owning a black and white or color printer, this is an inexpensive solution to a keepsake item that everyone will cherish.
The prayer card templates are actual files that are compatible with Microsoft Word®, Publisher®, OpenOffice, and Apple iWork Pages which have been predesigned and formatted for the prayer cards. The cards will come 8up or eight cards to a sheet of letter size paper so the printing amount is less since there are multiples on a sheet.
This alone is a cost saving factor that every family should consider. With the rising cost of funerals today, it is always wise to look at all your options, especially if it is cost saving.
The Funeral Program Site (funeralprogram-site.com) also offers a service where the team of designers will put together the prayer card for the customer. Within a short one hour window, the template or card can be completed for customer review and approval. This site not only has been providing templates for over a decade, the company is also well renown for the customer support and professional printing services which are optional to the customer.
There are numerous amounts of other template styles available on the website and available for immediate download. The company stands behind each template and provides full customer support with each purchase.