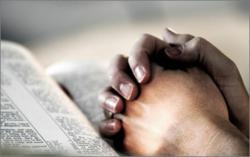 Jupiter, FL (PRWEB) September 29, 2011
The staff over at DialMyCalls.com, an extremely successful voice broadcasting provider, plans to bring religion in America into the 21st century with their brand new prayer request service – signing up is free.
Religious groups are now able to send followers automated prayer requests in either voice or text message form. With DialMyCalls, religious groups can ask followers to pray for a member, should they come down with an illness or suffer the loss of a loved one – reach thousands of people instantly!
"For ages, religious groups have relied on bulletins, newsletters, service announcements and word of mouth to ask for prayer requests – DialMyCalls is here to help reach a much broader audience" says owner David Batchelor. "With our voice broadcasting system, prayer requests can be sent out to hundreds of thousands of followers instantly."
Technology and religion are two things that are not typically associated with one another but the DialMyCalls staff is ready to change that. "People oftentimes write companies such as ours off as 'those bad people who send annoying political calls,' overlooking the benefits that our voice broadcasting system has to offer" says Batchelor. "Launching our prayer request service for religious groups and leaders in America will hopefully create a long-lasting relationship between religion and technology."
When it comes to praying for loved ones and members of a religious group, DialMyCalls is there to help prayer requests be heard by as many people as possible.
About DialMyCalls
DialMyCalls.com was founded in 2006 and has since been determined to make its voice broadcasting service usable by everyone. The company continues to grow and the launch of their brand new prayer request service for religious groups is a great example of that. They have a strong team of developers along with their core staff and look to continue to expand as the demand for automated calling continues to rise. Churches and religious organizations across the country and in Canada can now experience the benefits of voice broadcasting without having to purchase any expensive hardware or software.
For more information, please visit http://www.dialmycalls.com or call 800.928.2086. You can also email tims(at)ontimetelecom(dot)com for additional information.
###