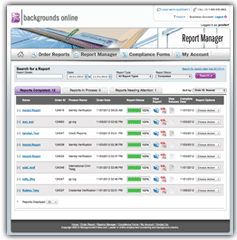 We've always offered an expedient, thorough and effortless system for pre-employment background screening. Now we've refined the process even further.
Sacramento, CA (PRWEB) November 26, 2012
Backgrounds Online a prominent provider of pre-employment screening and related services, today announced the debut of their completely redesigned Screening Application tool. The enhancements have been meticulously crafted to make the entire screening process easier to manage.
Enhanced Report Manager
"We added a slew of exciting new features to the site." said Christopher Ballas, CEO of Backgrounds Online. "We've always offered an expedient, thorough and effortless system for pre-employment background screening. Now we've refined the process even further. Our newly redesigned Report Manager provides a simplified, practical interface that helps companies of any size find and hire the right candidate every time."
The revamped Backgrounds Online site empowers customers to:

See the status of every report at a glance, via the Visual Progress Bar
View an applicant's address, reports ordered and other details instantly
Download PDF versions of any report
Sort reports by Order Date, Last Name or most any criteria
Send automated status requests with a single click
Pre-adverse and adverse action letters have been seamlessly integrated into the Report Manager to simplify the compliance process.
Online Release Uploads
The newly refreshed website now features Online Release Uploads, which enables customers to instantly upload an electronic copy of an applicant's signed release. Once a release is submitted, it is also saved to the applicant's Report Manager for easy access at any time. This eliminates the need to send forms via slow, outdated fax machines.
Live Chat
Backgrounds Online helps businesses of every size and type to develop an employment screening process that is swift, thorough and insightful. Chances are you'll never need to speak to one of the company's highly trained professionals – but they are always available in case you do.
The Backgrounds Online staff is your partner throughout the hiring process. To augment this partnership, the site now offers a new way to make contact with a real person: Live Chat. This option puts a knowledgeable background check professional right at your fingertips the moment you need them. Simply click the Live Chat icon for instant answers and support.
Visual Overhaul
Backgrounds Online offers a plethora of useful new services and provides a clean, user-friendly design. The site boasts a brand new FAQ filled with astute answers to common questions. It also features recently revised instructional information that is clear, concise and comprehensive.
Environmentally Friendly Employment Screening
The advantageous new services from Backgrounds Online are delivered with a compelling and environmentally friendly approach. Users are empowered to load an applicant's signed release form online, avoiding the need for a hard copy on paper.
Backgrounds Online's new Live Chat service and PDF reports also allow customers to practice greener screening policies. Instead of printing and faxing, the entire process can now be managed online. This saves time, natural resources and money.
About Backgrounds Online
Backgrounds Online provides authoritative background screening, drug screening and related recruitment solutions. Since 1997, Backgrounds Online has helped improve and accelerate the pre-employment screening process for every type of business, from small startups to Fortune 500 corporations.
For more information, visit http://www.backgroundsonline.com