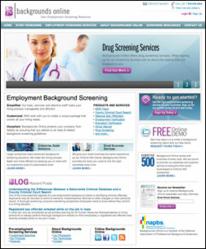 Drug Screening empowers businesses to avoid unnecessary risks while making recruitment-based decisions.
Sacramento, CA (PRWEB) September 20, 2011
Backgrounds Online, today announced the release of Drug Screening, a new service designed to advance the hiring process, increase workplace productivity and boost security levels within any company. Drug Screening empowers businesses to avoid unnecessary risks while making recruitment-based decisions. This service is available directly through Backgrounds Online, enabling customers to save time and accomplish all of their pre-employment screening needs at one spot.
Two Startling Facts
According to the U.S. Department of Health and Human Services:

3 in 4 substance abusers are employed
Companies encounter approximately $81 billion in decreased output, absenteeism, and accidents due to substance abuse
Substance abuse is a quickly becoming a boundless obstacle for American businesses. The copious number of substance abusers in the workplace threatens the competitiveness and financial stability of companies in every industry. As this disturbing trend continues, business owners are forced to find new ways to protect their assets and prevent a steady decrease in production.
A Drug Screening Solution
To combat this troublesome condition, Backgrounds Online has partnered with a national drug screening collection center Quest Diagnostics to create Drug Screening. This new service is designed to save companies time and resources by enabling hiring managers to detect potential substance abusers during the recruitment process.
"Thorough drug screening is essential for every business," said Chris Ballas, President of Backgrounds Online. "Drug Screening enhances our existing background check products and gives customers a one-stop shop for their screening needs. The service allows business to obtain drug screening results from any city and state in the county. Our goal is to reduce the amount of revenue lost from decreased productivity and repeated hiring cycles caused by individuals whose substance abuse, whether it occurs on or off-site, adversely affects their employer."
Drug Screening offers a simple, forthright process. It provides an option for users to initiate the drug screening process with a collection center that accepts either electronic or hardcopy (paper) chain of custody forms. Job applicants are then asked to visit the appropriate collection center for thorough testing. Drug screening results are promptly retrieved by Backgrounds Online and compiled into an extensive report, enabling customers to obtain all the data they need to make well-informed hiring decisions through a single resource.
Three Optimistic Facts
Drug Screening is designed to prevent substance abuse within the workplace. Prevention has shown to improve productivity, safety and morale. According to a study conducted by the U.S. Department of Labor, preventing substance abuse led to a:
97% decrease in on-the-job injuries
91% decrease in absenteeism
93% decrease in mistakes at work
Substance abuse is a growing epidemic in The United States. Business owners must protect themselves from decreased productivity or absenteeism, and create safe environments for employees. Backgrounds Online new Drug Screening service establishes an uncompromising tool that makes the recruitment process more reliable, manageable and secure.
About Backgrounds Online
Backgrounds Online provides authoritative background screening, drug screening and related recruitment solutions. Since 1997, Backgrounds Online has helped improve and accelerate the pre-employment screening process for every type of business, from small startups to Fortune 500 corporations. For more information, visit http://www.backgroundsonline.com
###