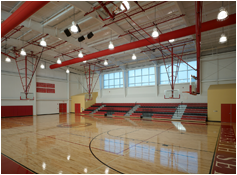 With Butler®, we know we can offer our clients top-notch systems and material to enhance the outcome of any project.
Chantilly, VA (PRWEB) February 08, 2012
Scott-Long Construction announces its recent authorization as local Butler Builder® and distributor of Butler® pre-engineered metal building systems. Scott-Long Construction will offer turnkey metal building design and construction services, utilizing Butler's renowned pre-engineered metal building systems, to commercial and institutional customers in the DC-metro area.
Butler® Manufacturing is the world's leading producer of metal building systems, with more than 100 years of experience and featuring the company's own BlueScope Steel material. Butler® is recognized for pioneering systems construction with the introduction of the rigid frame design. The company has since established an industry-leading position by offering superior products and a strong commitment to service and support.
Butler® pre-engineered metal buildings offer the advantages of significant cost and performance improvements over conventional construction methods. Plus, with Butler's® systems-based construction, each part is engineered and designed to assemble together so a building can be constructed with greater speed and precision than is generally possible using conventional methods.
"Butler® Manufacturing was the obvious choice for us when choosing a pre-engineered metal building partner to meet the needs of our clients. With Butler®, we know we can offer our clients top-notch systems and material to enhance the outcome of any project," remarks John Scott, CEO of Scott-Long Construction.
Despite the new relationship with Butler®, Scott-Long's foray into metal buildings extends far into its 50-year history and extensive experience with institutional projects, including hospitals, senior care facilities, private schools, religious institutions, clubhouses and other selected facilities. Metal buildings are a natural fit for many of these projects because of the affordability, flexibility, speed, and sustainability of the construction material.
Previous metal building projects by Scott-Long include Patrick Henry College Student Life Center, Park Valley Church, Elizabeth Seton High School, Northern Virginia Aquatic Center, and more than a dozen others.
Scott-Long offers complete turnkey pre-engineered metal building construction services – from initial design to complete finish work -- to ensure aesthetically pleasing, affordable, and highly functional results.
To learn more about the advantages of metal buildings or to discuss your project, visit http://www.scottlong.com/services/pre-engineered-metal-buildings/index.html.
###