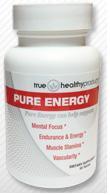 Natural nutrition company, True Healthy Products is now offering a free Pre-workout Nitric Oxide product with purchase of muscle recovery supplement.
(PRWEB) February 14, 2012
True Healthy Products, a Florida fitness and nutrition company is now offering a free bottle of their all natural "Pure Energy" pre workout formula with the purchase of their muscle recovery booster, "The Daily Optimizer".
The offer is available on their website: http://www.truehealthyproducts.com/products/sports-nutrition/nitraplex
The company formulated "Pure Energy" so it could be used alone or as an accompaniment to their all natural "Daily Optimizer" muscle recovery booster. For a limited time, with the purchase of the Daily Optimizer, the Pure Energy supplement will be available free to give customers an opportunity to take the two supplements together and experience the maximum results when the products are used together.
From the company's website, http://www.truehealthyproducts.com, benefits of the two supplements are highlighted:
Pure Energy will help support:

Increased energy
Increased mental focus
Increased endurance
Daily Optimizer will help support:

Increased overall performance and well being
Enhancing the body's ability to repair & build muscle
Relieving joint and muscle aches
According to the formulator, Andrew Wood, "These products are designed to compliment each other to produce maximum results. It is always recommended to have a clean healthy diet and exercise routine to achieve your personal desired results."
"Daily Optimizer and Pure Energy helps me regulate hormones, helps me sleep and helps me with my recovery, I have increases energy, mental focus there are no jitters and no crash. They are all natural, no additives or sugars; it is the only safe alternative to energy." – Rod Johnston, Fire Department Training Chief
True Healthy Products is an all natural health and wellness company that is dedicated to high standards in quality of products and customer service. For more information about supplements or other natural products offered by the company like wholefood vitamins, homeopathic diets, and natural dark chocolate, visit the company's website at http://www.truehealthyproducts.com.
True Healthy Products
2460 N. Courtenay Parkway, #210
Merritt Island, FL 32953
888-400-2920
###