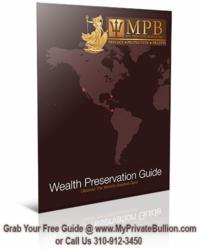 In some more outrageous cases, we've seen other company premiums on basic bullion coins as high as 40%! This practice is one that ultimately hurts the client
Culver City, CA (PRWEB) May 31, 2013
My Private Bullion (MPB) announces today the arrival and availability of their newest gold and silver coins that are eligible for IRA and other types of retirement accounts. The coins, some of which are gold and others silver are produced in countries ranging from the United States, Canada, England, Austria and New Zealand.
The arrival and availability of these coins should come as welcome relief to current and newer clients alike. Coin shortages and decreased product availability are being reported increasingly throughout the industry, causing some precious metal companies to add a heavy premium to their products, or simply not sell them at all. MPB managing director, Alex Viera, states: "In some more outrageous cases, we've seen other company premiums on basic bullion coins as high as 40%!"
"This practice is one that ultimately hurts the client. After all, what good is the recent downward correction in metal pricing going to do for the individual if they are unable to find product or they do find product, but when they do it's heavily marked up?"
Tom Kelly, Sales Manager and retirement plan specialist at MPB says: "These are some of the best IRA approved gold and silver coins available. We've seen some excellent appreciation with versions of these coins from previous years. And there are even a few examples that have had some outstanding appreciation from as recently as 2012, especially in silver. As a result, clients are more able to add a real wealth building component to their retirement plans." He added, "We are very proud to offer them to both existing and new clients alike at a time when they are needed and at a price that is very competitive."
More information about the specific coins, availability and pricing is available through contacting My Private Bullion directly either by phone or email.
To learn more about retirement plan investing in gold, silver, platinum, and palladium, please visit http://www.myprivatebullion.com or call 310-912-3450.
ABOUT MY PRIVATE BULLION
At My Private Bullion, individual service, asset protection strategies and wealth management solutions are the foundation of our business. The company also belives that today's investors need a protection plan and a profitability plan that the rest of the precious metals industry is simply not providing.
My Private Bullion's specialty is finding specific coins for buyers that will increase over time, well above bullion coins of similar prices. The company's services include individuals, IRA's, 401K's and entire company retirement plans. MPB's commitment is to learn an investor's individual goals and objectives, and tailor personalized solutions to meet their specific needs.