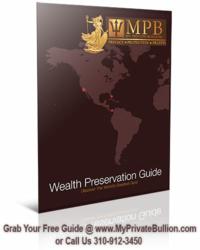 Now is one of the best times in the past 3 years to buy and hold gold, especially in a precious metals IRA
Culver City, CA (PRWEB) June 25, 2013
In an ongoing effort to continuously educate clients and investors, My Private Bullion announces today their perspective on the recent price corrections in the precious metals markets. MPB advises investors, especially physical gold IRA investors to look beyond the events of the last few days by putting them in proper historical context. They urge their clients to remember that as far as the country's economic fundamentals are concerned, nothing has changed.
MPB Managing Director Alex Viera explains it this way: "Fundamentally we are no different today then we were a week ago. Ben Bernanke and the Federal Reserve had a meeting and issued some statements. Viera adds: "A close examination of what Bernanke actually said however, as opposed to reading about his comments from some blogger or financial talking head hungry for an audience, shows that basically, he said nothing. Sure he used a lot of modifiers and a lot of circular language, but in the end no real commitments were made by the Federal Reserve."
Market interpretation of meetings and statements held by the Federal Reserve Open Market Committee (FOMC) are carefully scrutinized by the financial world and the financial press. This often leads to increased confusion among investors searching for what to do with their IRA's and portfolios. This confusion was replaced by panic as evidenced by the stock market taking its biggest one day drop on Thursday (6/20/13) since 2011.
"I probably hear the expression 'I'm gonna wait and see what happens' about a dozen times a week," said Tom Kelly, sales manager and retirement plan specialist at MPB. Mr. Kelly goes on to say: "Well that has never been a good strategy in our opinion. Look, either money printing will continue or it won't. Plain and simple. Either way, we believe either scenario will be good for gold, and especially physical gold IRA accounts. Now is one of the best times in the past 3 years to buy and hold gold, especially in a precious metals IRA."
Mr. Kelly concluded by saying: "How often does an investor get to turn back the clock? They are getting that opportunity now, but only if they get off the sidelines and take advantage of it."
To learn more about retirement plan investing in gold and other precious metals, please visit http://www.myprivatebullion.com or call 310-912-3450.
ABOUT MY PRIVATE BULLION
At My Private Bullion, individual service, asset protection strategies and wealth management solutions are the foundation of our business. The company also believes that today's investors need a protection plan and a profitability plan that the rest of the precious metals industry is simply not providing.
My Private Bullion's specialty is finding specific coins for buyers that will increase over time, well above bullion coins of similar prices. The company's services include individuals, IRA's, 401K's and entire company retirement plans. MPB's commitment is to learn an investor's individual goals and objectives, and tailor personalized solutions to meet their specific needs.