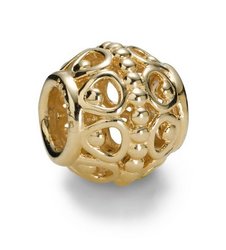 Pandora is reinventing the concept of charm jewelry.
Englewood, NJ (PRWEB) April 15, 2009
Precious Accents is proud to announce the debut of new spring charms to its extensive Pandora jewelry product line. Currently, Precious Accents has more than 500 Pandora charms in its jewelry line.
"We are very pleased to offer Pandora's new spring collection," says Mario Rosenthal of Precious Accents. "Pandora is reinventing the concept of charm jewelry."
Among the new charms are three in sterling silver: a Forget-Me-Knot, an adorable elephant and a Yin-Yang with an embedded gem. Another charm in the new line is a cinched purse in sterling silver with a 14k gold bow, plus an exquisite solid 14k gold gilded cage charm.
Pandora beads are designed with exquisite detail and superb craftsmanship in sterling silver, 14K gold, and some with precious stones. Originally created by goldsmith Per Enevoldsen and his wife Winnie in Copenhagen, Denmark, the charm bracelet was quickly embraced by consumers and became wildly popular, and is currently sold in 18 countries.
Pandora bracelets make the perfect gift: whether it is for a birthday, anniversary, graduation, a mother-daughter keepsake, or for any special occasion. With designers creating new and exciting charms every fall and spring, consumers can check back and find the perfect addition for every gift giving occasion. To see the Precious Accents' extensive Pandora product offering, please visit http://www.preciousaccents.com/c-pandora-jewelry.html.
About Precious Accents
Precious Accents started more than 30 years ago as a family-owned silver shop in Yonkers, New York. Since then, the company has owned and operated multiple locations and is currently headquartered in Englewood, New Jersey. Its founder is a silversmith and bench jeweler by trade, whose designs have influenced some of the biggest names in jewelry today. His dedication to service, craftsmanship, and aesthetics lie at the core of the company's philosophy and business practice. For more, please visit http://www.PreciousAccents.com.
Contact:
Josh Rosenthal
Precious Accents Search Engine Marketing Manager
201-567-6001
service(at)preciousaccents.com
###