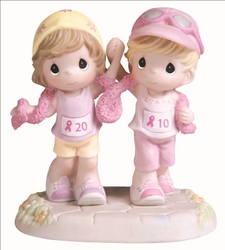 Precious Moments enthusiasts have always been extremely generous and caring, and NBCF is a non-profit organization that our collector-base can really relate to. It is our hope that they will embrace the opportunity to help us support this amazing cause
Carthage, MO (PRWEB) October 5, 2010
In honor of breast cancer awareness month, on Saturday, October 16, 2010, from 10:00 a.m. to 2:00 p.m., more than 70 retailers across the country will host the third annual Precious Moments retail event. This year's event will raise awareness and funds for Precious Moments, Inc.'s new philanthropic partner, National Breast Cancer Foundation, Inc. (NBCF). The event is themed, "Together We Can Win the Race," and all who attend will have the exclusive opportunity to purchase the limited edition Precious Moments figurine also titled, "Together We Can Win The Race." This special piece, (item #109033), features two exquisitely hand-sculpted bisque porcelain girls racing toward a cure for breast cancer. It carries a suggested retail price of $50.
Event attendees will have the chance to win one of several valuable sweepstakes prizes, one drawn every half hour at every retail event location. The final winner will receive an event figurine signed by Deb Butcher, today's creative force behind the Precious Moments collection in collaboration with her father, Samuel J. Butcher.
"Breast cancer awareness month is the perfect time to implement a nationwide event to benefit NBCF," says Jim Malcolm, CEO of Precious Moments, Inc. "Precious Moments enthusiasts have always been extremely generous and caring, and NBCF is a non-profit organization that our collector-base can really relate to. It is our hope that they will embrace the opportunity to help us support this amazing cause," Malcolm continues.
Recognized as one of the leading breast cancer organizations in the world, NBCF's mission is to save lives through early detection and to provide mammograms for those in need. NBCF provides Help for Today…Hope For Tomorrow® through its National Mammography Program, Early Detection Plan®, MyNBCF online social community, and breast cancer research programs. For more information about NBCF, visit http://www.nbcf.org.
About Precious Moments
Precious Moments, Inc., with offices in suburban Chicago, Ill. and Carthage, Mo., home of the renowned Precious Moments Chapel, is a privately held, family owned business. Known the world over, porcelain Precious Moments figurines and coordinating gifts are based on the inspirational artwork of Samuel J. Butcher. These tear-drop eyed children deliver messages of joy, hope, faith and comfort. Principally, PMI is the owner of all Precious Moments artwork and is the exclusive licensor to more than 100 prominent companies. Established in the early 1970s, the company has a long tradition of partnering with worthwhile causes, such as NBCF, giving back to communities across the nation and around the world. For more information about Precious Moments, Inc., please visit http://www.preciousmoments.com .
###