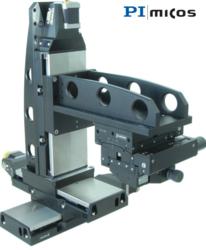 Auburn, MA (PRWEB) July 16, 2012
A new line of motorized precision positioning systems for fields as diverse as semiconductor test equipment, life science research, high energy physics and aerospace applications is now available from PI miCos.
These high-end positioning stages can be used in clean-room and high-vacuum environments. Users can chose between linear servo motors, rotary servo-motors and stepping motors. Closed loop models are offered with optical high-resolution position feedback. In addition to single axis precision linear stages, PI miCos offers XY-positioning systems, high-accuracy elevator stages and rotary positioners.
The motorized linear positioners come in over 20 different product lines from highly compact translation stages with less than 2 inch travel to long range linear positioners with more than 1 meter of positioning range. In addition to high-end, closed-loop systems with nanometer precise positioning capabilities, low-cost stages are also available.
More information about PI miCos positioners:
Keywords: Precision Linear Stage, Motorized Positioner, Translation Stage