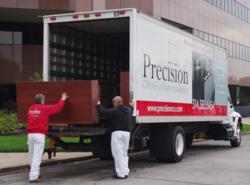 We are always proud when a big corporation or government contractor chooses us to install their office furniture and modular systems
St. Louis, MO (PRWEB) April 30, 2013
Office furniture services provider, Precision, will be installing office furniture for the new Food and Drug Administration location in the city of St. Louis Missouri.
Companies that are moving from one space to another are often overwhelmed with how much there is to get done. Most companies will take the endeavor on themselves and have their high paid employees moving office furniture, computers, and other valuables in this process. This is an easy way to break the office furniture or injure a valued employee. The FDA is about to embark on a St. Louis office relocation and are going about the move in the right way. The Food and Drug Administration aren't taking any chances with their employees moving their stuff and have hired an office furniture installer to do the heavy lifting and to make sure everything is properly installed.
Another positive of hiring corporate relocation companies is that they can easily reach a deadline when asked. Since this job is on schedule to be done by the middle of May, there is no question that the professional crew, who often do corporate relocation jobs, will be done on time.
"We are always proud when a big corporation or government contractor chooses us to install their office furniture and modular systems," says John Kiel, owner of Precision Office Furniture Installation. "Precision's installers pay close attention to thoroughly installing each piece of furniture and each modular system; it is very important that our quality of work can be seen with each job."
About Precision Office Furniture Installation:
Precision Office Furniture Installation provides union and non-union installation services for office furniture installations and reconfigurations, commercial furniture and equipment installation, hospitality and FF&E installations, educational furniture, library furniture and healthcare furniture installations. Precision has over 27 years of broad-based installation and project experience, for local and nationwide projects, connections for complex moves and corporate relocations, and one of the largest talent pool and most experienced management-level team in the industry. Together, these skills and service offerings provide a seamless, cost-effective, and highly coordinated response to all office furniture and equipment installation and relocation needs.