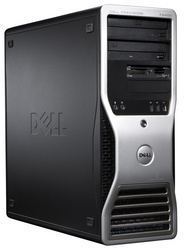 The Dell Precision T3400 redefines the levels of performance and flexibility customers should expect for mainstream workstations
ROUND ROCK, Texas (PRWEB) October 10, 2007
"The Dell Precision T3400 redefines the levels of performance and flexibility customers should expect for mainstream workstations," said Vivek Mohindra, vice president, Dell Product Group. "We are reinforcing our market leadership position by delivering leading-edge features such as dual graphics and higher bandwidth processors and memory that customers could not get in this type of system before."
Dell Precision has been the world's top-selling line of professional workstations for the past eight years.(1) Dell simplifies its workstation line by designing and certifying its platforms with more than 27 independent software vendors, supporting 63 different applications and services. This gives professional workstation customers true "peace of mind" when running high performance applications in fields that include engineering, digital content creation, scientific, finance and software development.
Key features of the Dell Precision T3400 include:
-- A single socket supports new Intel(R)Core(TM)2 Duo and Extreme processors for tangible performance benefits. These processors feature the new Intel(R)Core(TM) microarchitecture with the Intel X38 Express chipset. This technology provides a shorter pipeline, lower clock speeds and higher (1,333MHz) front-side bus speeds to help deliver performance gains over comparable Intel(R)Pentium(R)D and Extreme Edition processors.(2) The range of processors includes dual- and quad-core offerings and the capability to run both 32- and 64-bit operating systems.
-- Extensive memory and storage options. The Precision T3400 supports 800Mhz ECC memory from 1GB to 8GB. Customers can order the system with up to four(3) hard drives and choose from a range of SATA and SAS options and RAID configurations.
-- Industry-leading workstation-class graphics options, from entry-level 2D to high-end 3D. For demanding 3D applications, the PrecisionT3400 is available with the latest NVIDIA Quadro FX 4600. The Precision T3400 also supports dual-graphics configurations and supports up to four external displays.
-- Smart chassis design. The compact chassis allows for both mini-tower and desktop orientations and features rotating optical drives that can be installed horizontally or vertically for optimal loading and functionality.
Available now globally, a base configuration starts at (US) $1,000. For more information on the Dell Precision T3400, visit http://www.dell.com/precision.
About Dell
Dell Inc. (NASDAQ:DELL) listens to customers and delivers innovative technology and services they trust and value. Uniquely enabled by its direct business model, Dell is a leading global systems and services company and No. 34 on the Fortune 500. For more information, visit http://www.dell.com, or to communicate directly with Dell via a variety of online channels, go to http://www.dell.com/conversations. To get Dell news direct, visit http://www.dell.com/RSS.
Pricing, specifications, availability, and terms of offers may change without notice. Taxes, fees, shipping, handling and any applicable restocking charges are extra, and vary.
Dell is a trademark of Dell Inc.
Dell disclaims any proprietary interest in the marks and names of others.
(1) IDC 2Q07 Worldwide Quarterly Workstation Tracker, August 2007
(2) Over the previous generation Dell Precision 390
(3) In tower configuration