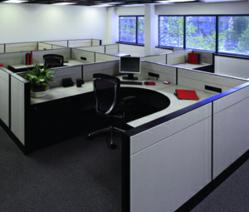 Precision's office furniture installers pay special attention to thoroughly cleaning our machine after each use.
St. Louis, MO (PRWEB) January 23, 2013
Companies that have recently moved their office should have their workstation or cubicle panels cleaned. Most companies have never had their workstation or cubicle panels cleaned. The average person spends 8-10 hours a day in their workstation or cubicle. The dust alone that has settled throughout the years can affect allergies and overall health. Most panels are made from fabric which is a magnet for dust and grime, not to mention airborne allergens. With the flu season reaching epidemic proportions, it's a good time for companies to consider a thouroughly cleaning of their work environment.
With all the sneezing and coughing that people have been experiencing over the past three months – it's a perfect time to have your panels steam cleaned. Spots and stains can also be addressed. Many office spaces become cluttered over the years and it's time to start thinking about some early spring "office" cleaning.
"The harmful allergens that have been flying all over the office are just waiting to be steam cleaned and then rinsed with clean water. Precision Office Furniture Installation can clean your fabric panels using our extraction machine specifically designed for fabric workstation panels. Very specific allergen reducing cleaners are used and then steam rinsed," says Kim Brannan, Vice President of Sales. "Precision's office furniture installers pay special attention to thoroughly cleaning our machine after each use. It is very important that dirt is not transferred to other items."
Coffee, ink or marker spots? All spots are specifically pre-treated prior to the entire panel is cleaned to reduce the stain's appearance as much as possible. If the set-in stain cannot be completely cleaned, other panels can be switched out look to look more presentable
"And yes, we can clean after hours," stated Kim Brannan. Just give us a call or visit our website at http://precisionco.com/services/integrated-value-added-services/
About Precision Office Furniture Installation
Precision Office Furniture Installation provides union and non-union installation services for office furniture installations and reconfigurations, commercial furniture and equipment installation, hospitality and FF&E installations, office furniture decommission, library furniture and healthcare furniture installations. Precision, which helps companies with corporate relocation in St. Louis, has over 27 years of broad-based installation and project experience, for local and nationwide projects, connections for complex moves and corporate relocations, and one of the largest talent pool and most experienced management-level team in the industry. Together, these skills and service offerings provide a seamless, cost-effective, and highly coordinated response to all office furniture and equipment installation and relocation needs.
Press release submitted by St. Louis Digital Marketing Firm Leap Clixx