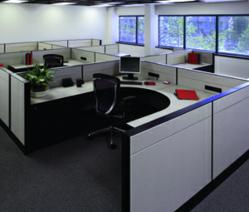 Businesses can't afford to take chances with their office furniture installation project.
St. Louis, MO (PRWEB) December 18, 2012
Precision Office Furniture Installation announced today that it has successfully completed a multi-phase installation project for a high profile client's new call center in downtown St. Louis.
Like all of its customers, whether they need retail installation, hospitality ff&e installation (furniture, fixtures and equipment), or other office furniture installation requirement, Precision's high profile client had no tolerance for inefficiency or wastefulness. Every excess hour during the installation project would mean idling employees, loss of productivity, and a failure to meet its high customer service standards. By choosing Precision, they knew they were partnering with a proven specialist renowned for office furniture services in St. Louis.
"Businesses can't afford to take chances with their office furniture installation project," commented Kim Brannan, Precision's VP of Sales and Marketing. "The risks are simply far too high, and mistakes made during a project become magnified and can create far reaching problems that last well beyond the project's completion. With years of experience and hundreds of satisfied clients across St. Louis, we have the systems, the experts and the resources to ensure that our clients experience a seamless, on-time and on-budget project that minimizes or completely eliminates inconveniences, and has them up and running quicker, simpler and easier than they imagine."
Added Ms. Brannan: "Plus, our customers can take confidence in knowing that we routinely work with major furniture brands, including HON/Allsteel, Haworth, Herman Miller, Kimball, Steelcase, American Seating, Panel Concepts, Spacesaver, Nova Solutions and dozens more."
For media inquiries, contact Kim Brannan at (314) 383-6454 x 155.
About Precision Office Furniture Installation
Precision Office Furniture Installation provides union and non-union installation services for office furniture installations and reconfigurations, commercial furniture and equipment installation, hospitality and FF&E installations, educational furniture, library furniture and healthcare furniture installations. Precision, which helps companies with corporate relocation in St. Louis, has over 27 years of broad-based installation and project experience, for local and nationwide projects, connections for complex moves and corporate relocations, and one of the largest talent pool and most experienced management-level team in the industry. Together, these skills and service offerings provide a seamless, cost-effective, and highly coordinated response to all office furniture and equipment installation and relocation needs.