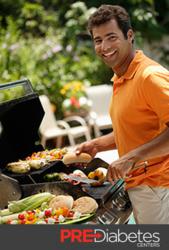 King of Prussia, PA (PRWEB) May 29, 2013
Nothing says "summertime" like an outdoor barbecue! When the sun is out and the grill is fired up, it's time to indulge in backyard lounging with good friends and fantastic food.
Still, it's important to stay healthy with a nutritious diet and regular exercise (it'll help you look and feel better in a bikini or swim trunks in the coming months!).
Good nutrition is critical for people with prediabetes, the condition that occurs before a diabetes diagnosis. Nearly 80 million Americans have the condition and most don't know it because the disease is often symptomless.
Whether you're prediabetic or are just looking for new summer cooking tips, these top grilling tidbits are sure to make your next outdoor grilling party a summertime success!
Top Tips for Healthy Summer Grilling
1. Spear your food!
Everyone loves kabobs! They're fun to eat and are usually made with a combination of foods–including meat and veggies–offering the perfect opportunity to pack veggies into your diet. Veggies that grill well include zucchini, yellow squash, mushrooms, bell pepper, and onion. Asparagus and tomatoes also grill up nicely, so toss a handful of asparagus spears or sliced tomatoes on too! Be sure to soak wooden kabob sticks in cold water for at least 30 minutes to prevent scorching.
2. Ditch white bread and go for whole grain.
People who have prediabetes should avoid products made with refined flour–such as white bread, cookies, cakes, and pies–because they can cause insulin levels to rise. When choosing which type of bread to sandwich around your grilled meat, opt for breads made with whole grains, which can lower fasting insulin levels, improve insulin sensitivity, lower blood pressure, and reduce LDL cholesterol and triglycerides.
3. Make a healthy marinade.
Barbecue sauces and marinades are often chock-full of sugar, sodium and fat. Substitute your regular ol' unhealthy marinade with this healthier marinade recipe for beef or pork, courtesy of the American Diabetes Association: Combine 1 cup unsweetened pineapple juice, 1 minced garlic clove, 1/3 cup light soy sauce, 1 teaspoon ground ginger, and 1/3 cup low-calorie Italian salad dressing. Marinate meat in the refrigerator until ready to grill. Enjoy!
4. Use a food thermometer to check doneness.
You can't tell if food is cooked based on how it looks. Eating undercooked meat raises the risk for foodborne illness, so it's a good idea to double-check that grilled food is fully cooked. Steak, pork and fish should be cooked to at least 145 degrees F. Hamburgers (any ground beef product) should be cooked to at least 160 degrees F. Chicken breast should reach at least 165 degrees F.
Remember, smart eating alone is not enough to prevent diabetes. You might have a genetic risk for the disease or underlying medical conditions that are heightening your risk for diabetes.
Those who feel they may be at risk for prediabetes can book a free blood screening by calling 1-855-399-7733 (PRED). For greater convenience, people also have the option of scheduling online.
Residents of the Philadelphia and King of Prussia are fortunate enough to receive the care and expertise of Dr. Andre Garabedian, a top physician who leads the PreDiabetes Center of King of Prussia.
Dr. Garabedian believes it's important that people understand their individual risk for type 2 diabetes. "Diabetes is a major, major problem," said Dr. Garabedian. "Our Center specifically treats prediabetes and puts people on the road to healing."
Dr. Garabedian is a respected physician specializing in chronic disorders, and has practiced family medicine in the King of Prussia area for more than 30 years. He meets with clients at the PreDiabetes Center of King of Prussia, located at 491 Allendale Road, Suite 222.
People with prediabetes are likely to develop type 2 diabetes within three to 10 years. Once a person has diabetes, it increases his or her risk of stroke, kidney damage and nerve damage.
PreDiabetes Centers is a privately owned company based in Austin, Texas, dedicated to the prevention and treatment of diabetes. Treatment at the Center is based on physician-directed care and lifestyle intervention tailored for each client. The company offers a 12-month personalized program that treats prediabetes and its associated conditions, and uses advanced biomarker testing to monitor specific processes in the body associated with prediabetic conditions.
Connect with PreDiabetes Centers on the PreD blog!