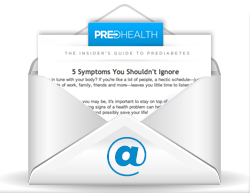 Austin, TX (PRWEB) April 16, 2013
PreDiabetes Centers, a provider of personalized prediabetes treatment - and the nation's authority on prediabetes care and prevention - is pleased to announce the debut of its free online prediabetes newsletter "PreD Health: The Insider's Guide to Prediabetes."
The newsletter features breaking prediabetes and diabetes news and healthy living tips covering topics of interest to people with prediabetes, including treatment options for prediabetes and its related complications, information on vitamins and supplements, nutritious eating strategies, easy recipes, simple fitness regimens, and interviews with top experts on the latest advances in prediabetes health and wellness. Additionally, the newsletter will feature video tutorials on nutritious food preparation, prediabetes screening, and other topics that promote prediabetes wellness.
The goal of the "PreD Health" newsletter is to help people live healthfully while fighting prediabetes, and to empower readers to make smart choices for an active, diabetes-free lifestyle. The newsletter is also a good resource for people who aren't sure if they have prediabetes but feel they may be at risk, and provides a sneak peek at the valuable tools that people enrolled in the program receive.
Readers can sign up for the "PreD Health" newsletter at PreDiabetesCenters.com. It's a simple process that takes just 1-2 minutes. Here's how to sign up: Visit any page on the PreDiabetes Centers website and scroll to the bottom of the page. In the blue footer, readers will see a "Newsletter Sign-Up" field. After submitting a name and email address, readers will receive their first issue of the "PreD Health" newsletter in their inbox.
The inaugural issue of "PreD Health" launched Monday and features sharp, easy-to-read articles about prediabetes health, including "5 Symptoms You Shouldn't Ignore," "How Genetics Puts You at Risk for Prediabetes" and an informative story about the financial cost of type 2 diabetes. The newsletter also features a fun, snappy video tutorial on cooking with lima beans, hosted by prediabetes Concierge Chef Han Ashley.
PreDiabetes Centers is a rapidly growing company and has treatment centers around the nation. The company recently launched an enhanced website where visitors can learn about prediabetes, get information on complimentary prediabetes blood screening, and peruse simple diabetes-prevention tips. The Company's popular diabetes prevention blog, called "The PreD Blog," is also accessible on the site.
Prediabetes is the precursor to type 2 diabetes and can raise a person's risk for many serious complications, including cardiovascular disease, stroke, kidney damage and eye problems. More than 79 million Americans have prediabetes, and most are unaware of their condition. About 11% of people with prediabetes go on to develop type 2 diabetes within three years. According to the Centers for Disease Control and Prevention, as many as 1 in 3 adults could have diabetes by 2050.
PreDiabetes Centers is a private company based in Austin, Texas, that specializes in the prevention and treatment of diabetes. Treatment at the Center is customized for each client and is based on physician-directed care and lifestyle intervention. The company offers free biomarker blood testing that can detect prediabetes, and also continuing biomarker tests throughout the personalized program to ensure that metabolic processes in the body related to prediabetes are being reversed.