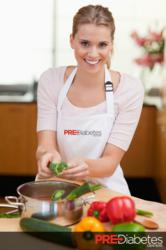 Carve out time once or twice a week to prepare fresh and nutritional whole foods that nourish and strengthen your body.
(PRWEB) June 27, 2013
PreDiabetes Centers is excited to announce a series of recipes created by the Company's Concierge Nutrition team. The recipes are nutritious and savory and feature heart-healthy fats, fiber, whole grains and protective phytonutrients. From appetizers and breakfasts to entrees and desserts, the Company is rolling out recipes that are delicious, satisfying and ideal for people with prediabetes.
People who love rich, decadent chocolate desserts will love the Healthy, Delicious Chocolate Pudding, which uses delicious avocados in place of high-calorie butter and has zero cholesterol. This heart-healthy sweet treat is creamy and indulgent, and is sure to become a dessert favorite.
Eating nutritiously can be difficult, especially for people who have prediabetes, the condition that occurs when blood sugar levels are higher than normal but not yet high enough for a diabetes diagnosis. Prediabetes occurs before a type 2 diabetes diagnosis and has many related complications–such as high blood pressure, high cholesterol and insulin resistance–that can be improved, in part, through smart nutrition choices.
Poor dietary choices is a major contributing factor in the development of diabetes. Many people feel too busy or overwhelmed to cook nutritious meals every night and often end up nuking a nutrient-poor microwave meal or hitting the drive-through for quick nourishment. These dietary choices will deprive the body of the nutrients it needs and may also result in poor blood sugar control.
"It's important to feed your body right with whole, fresh foods and ingredients absent of preservatives and additives," said PreDiabetes Centers Concierge Chef Han Ashley, who designs recipes for clients enrolled in the 12-month treatment program.
"Take time once a week to plan your meals and snacks, and spend time at the grocery store to carefully choose a variety of whole and fresh ingredients. And read nutrition labels as well as the ingredients," said Ashley. "Also, carve out time once or twice a week to prepare fresh and nutritional whole foods that nourish and strengthen your body."
Ashley believes that eating the right type of fat is critical to good, balanced nutrition.
"The more animal and processed fats you consume, the more these fats are incorporated into your cells and bodily tissues. Healthy fats that come from plant-based sources–such as nuts, seeds, avocados, and olives–are less processed than animal fats and dairy, which makes it easier for the body to break down and use as energy or for other metabolic and cellular needs."
PreDiabetes Centers created an advanced nutrition plan that contains foods low in sodium and unhealthy animal fats and loaded with healthy fats, protein and fiber. The Concierge Nutrition Team also designed easy-to-follow meal plans using recipes created specially for people with prediabetes. Several of the recipes are featured on the website, including Very Berry Blueberry Pie and Savory Italian Meatloaf.
People who feel they may be at risk for diabetes can sign up for a complimentary blood test. The PreDiabetes Centers advanced blood test looks at blood glucose and hemoglobin A1c (typically looked at the doctor's office), as well as many more in-depth biomarkers, or chemicals and proteins in the blood that can indicate disease. The health markers screened in the complimentary test include adiponectin, homocysteine, C-reactive protein, testosterone, thyroid hormones, C-peptide, insulin, vitamin B 12, vitamin D, cholesterol, and HOMA-IR (a calculation of insulin resistance).
PreDiabetes Centers is a privately owned company based in Austin, Texas, that specializes in the prevention and treatment of diabetes. Treatment at the Center is customized for each client and is based on physician-directed care and lifestyle intervention. The company offers free biomarker blood testing that can detect prediabetes, and also continuing biomarker tests throughout the personalized program to ensure that metabolic processes in the body related to prediabetes are being reversed.