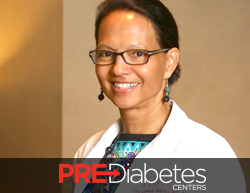 [It's rewarding] to see people make changes for the prevention of a problem. Those habits will spill into their overall well-being and general health.
Atlanta, GA (PRWEB) May 01, 2013
PreDiabetes Centers, a nationwide provider of personalized, integrated prediabetes treatment, announces the grand opening of a facility in Atlanta and the appointment of Dr. Alise Jones-Bailey to lead the Center. Dr. Jones-Bailey will guide the prediabetes care team in Atlanta, overseeing medical care, dietary planning, nutritional support, hormone optimization and other comprehensive treatment for the Center's clients.
Dr. Jones-Bailey is a board-certified doctor who specializes in bio-identical hormone balancing and integrative medicine. She received her medical degree from Morehouse School of Medicine in Atlanta and is fellowship trained in functional and anti-aging medicine. She was named one of the "The Best Choices for Doctors" in Essence magazine and has made numerous appearances on radio and television, including CNN and WAGA-TV. Dr. Jones-Bailey also appeared on an episode of "The Real Housewives of Atlanta" reality television show, as a doctor attending to patients at Arista Medical and Fitness Spa.
Dr. Jones-Bailey has much experience with chronic disease. For many years she cared for patients who were at risk for type 2 diabetes and developing prediabetes, and she was dismayed that there wasn't a focus on prevention or treatment, she said.
"There was just a wait-and-watch approach [when someone was at risk for diabetes]. Nutritionally, the most you would do is put a person on a low-glycemic diet and maybe refer them to a nutritionist," says Dr. Jones-Bailey.
She's excited to be part of a formalized, structured program that targets the prevention of diabetes. The PreDiabetes Centers treatment program employs a wide range of techniques to reverse diabetic processes and its related complications, including medication, supplements, health coaching, state-of the-art body monitoring, hormone optimization, an advanced nutrition plan, and customized fitness with a personal trainer.
She says the program is unique because it uses evidence-based, scientific methods combined with personalized treatment to prevent a serious disease before it takes hold of the body.
"The healthcare system is not designed for preventive medicine," she says. But with the assistance of a prediabetes physician and a knowledgeable health coach, people can stop prediabetes before it progresses to diabetes.
Dr. Jones-Bailey believes that while traditional medical treatment can help prevent the onset of diabetes, vitamins and supplements are also integral to a person's health. "Vitamins and supplements have its place in the world of prevention and are a significant part of a treatment regimen," she says.
So what's the most rewarding part of treating prediabetes for Dr. Jones-Bailey?
"To see people make changes for the prevention of a problem," she says. "Those habits will spill into their overall well-being and general health."
Dr. Jones-Bailey will meet with patients at the PreDiabetes Center of Atlanta at 3280 Howell Mill Road, Suite 204 East.
Dr. Jones-Bailey received her bachelor's degree at Spelman College in Atlanta. After completing her residency at Boston City Hospital, she served as a Cardiopulmonary Technician at Cornell Hospital for Special Surgery in New York City and Staff Gynecologist at Lane Medical Center at Northeastern University in Boston. She also cared for patients at Independent Physician Provider Center for Anti-Aging in Sandy Springs and as Medical Director for Arista Medical, Fitness and Anti-Aging Center in Atlanta. She is the owner and founder of Alpharetta Women's Medical Group in Atlanta.
More than 79 million Americans have prediabetes, defined as blood glucose levels that are high but not yet high enough for a diabetes diagnosis. People with prediabetes are likely to develop type 2 diabetes, a condition that can damage multiple organ systems and increase risk for heart disease, stroke, kidney damage and nerve damage.
PreDiabetes Centers is a privately owned company based in Austin, Texas, dedicated to the treatment of prediabetes. Treatment at the Center is based on physician-directed care and lifestyle intervention tailored for each client. The company offers a complimentary biomarker-based blood screening that can detect prediabetes, and also continuing biomarker tests throughout the 12-month personalized program to monitor specific processes in the body associated with prediabetic conditions.
Connect with PreDiabetes Centers on the PreD blog!