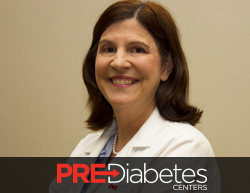 You can't treat a chronic disease on your own.
Houston, TX (PRWEB) May 07, 2013
PreDiabetes Centers, the nationwide leader in customized prediabetes treatment, today announced the opening of a new location in Houston and the appointment of Dr. Meg Qayum to lead the treatment center. Dr. Qayum is a board-certified physician with many years of experience in treating chronic disease. As a prediabetes physician, she will direct medical care for patients enrolled in the Company's 12-month comprehensive treatment program.
Dr. Qayum specializes in integrative and functional medicine. She received her medical degree and residency training from Louisiana State University School of Medicine in New Orleans. She is a member of the Fellowship in Anti-Aging and Regenerative Medicine, the Institute for Functional Medicine, and the American College for Advancement in Medicine. Dr. Qayum served as the Wellness Director of Divinity Med Spa & Wellness where she used a combination of bioidentical hormone therapy and customized nutrition and fitness therapy to treat people with hormone imbalance conditions, including weight gain, loss of energy, low libido, stress and depression.
She will meet with clients at the PreDiabetes Center of North Houston at 13215 Dotson Road, Suite 340.
Dr. Qayum is excited about incorporating a multi-faceted approach to prediabetes care. "This is the first program that looks at all contributing factors of the disease," she said, noting that the program uses continuous biomarker tests to ensure that individual markers of health are improving in conjunction with treatment.
Dr. Qayum says that people with prediabetes need targeted medical treatment in order to prevent the development of type 2 diabetes.
"You can't treat a chronic disease on your own. [Prediabetics] need a team approach to help guide them through [treatment]," said Dr. Qayum.
She notes that even if a person never progress to diabetes, he or she still has harmful conditions occurring in the body, such as inflammation, high blood pressure or abnormal cholesterol levels, that can lead to long-term health problems. A comprehensive prediabetes treatment plan targets these underlying imbalances and can help reverse their devastating effects.
Dr. Qayum said that many factors contribute to a prediabetes diagnosis, but nutrition, in particular, is a serious problem.
"People who are in their 30s and 40s were raised in a generation when soft drinks weren't considered bad," says Dr. Qayum.
It's now known that highly processed food and beverages can spike blood sugar, raise blood pressure and cholesterol levels, and lead to a host of diseases, including obesity, diabetes and heart disease.
Still, many people find it difficult to change their dietary habits–and when combined with other risk factors, a person's system can become overwhelmed, she said.
That's why nutritional balancing–and also hormone balancing–is so critical.
"You have to diagnose a person's nutritional deficiencies to treat them effectively," said Dr. Qayum. She notes that many people are deficient in iodine, vitamin D, CoQ10, and magnesium–important nutrients that are needed to keep the body functioning properly.
In addition to nutritional supplementation, the PreDiabetes Centers treatment plan incorporates pharmaceutical intervention, health coaching, state-of-the-art body monitoring, advanced nutrition, and personalized fitness to treat clients.
More than 79 million Americans have prediabetes, defined as blood glucose levels that are high but not yet high enough for a diabetes diagnosis. People with prediabetes are likely to develop type 2 diabetes, a condition that can damage multiple organ systems and increase risk for heart disease, stroke, kidney damage and nerve damage.
PreDiabetes Centers is a privately owned company based in Austin, Texas, dedicated to the treatment of prediabetes. Treatment at the Center is based on physician-directed care and lifestyle intervention tailored for each client. The company offers a complimentary biomarker-based blood screening that can detect prediabetes, and also continuing biomarker tests throughout the 12-month personalized program to monitor specific processes in the body associated with prediabetic conditions.
Connect with PreDiabetes Centers on the PreD blog!