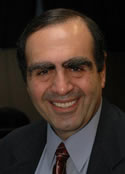 If you intervene early enough... you can avoid or postpone the onset of diabetes.
King of Prussia, PA (PRWEB) February 15, 2013
PreDiabetes Centers announces expansion into Pennsylvania and the appointment of Dr. Andre Garabedian as a treatment center physician who will direct medical care at the new facility, located in King of Prussia. The opening marks the first location outside of Texas for PreDiabetes Centers, a leading provider of integrated treatment for prediabetes, a common medical condition that occurs before a person develops type 2 diabetes.
Dr. Garabedian, a prominent physician specializing in chronic disorders, has practiced family medicine in the King of Prussia area for more than 30 years. A frequent guest on radio and television talk shows, he has extensive experience in treating thyroid disorders, hormonal imbalances and Lyme disease.
Dr. Garabedian notes that prediabetes is a relatively new concept, but it's a serious medical disorder that needs to be treated. Diagnosing the condition in its early stages is critical for preventing diabetes and its related complications, such as heart disease, metabolic syndrome and eye disease, he said.
"I've seen hundreds of thousands of patients with diabetes over the years, and the complications of diabetes are dangerous–and costly," said Dr. Garabedian.
He is looking forward to caring for patients in a 12-month program that has a comprehensive, proactive approach to prediabetes treatment.
"If you intervene early enough and improve insulin resistance, blood sugar levels, diet and fitness, you can avoid or postpone the onset of diabetes," he said.
Type 2 diabetes is an extremely serious condition, and early detection and a modern disease-prevention approach is the only solution, he notes.
"It can increase a person's lifespan and improve the quality of life," said Dr. Garabedian. "Patients will have a better chance of avoiding the complications of diabetes–something their parents didn't have."
Dr. Garabedian will see clients at the PreDiabetes Center of King of Prussia, located at 491 Allendale Road, Suite 222.
Dr. Garabedian oversaw 14 treatment centers as the National Assistant Medical Director for the Fibromyalgia and Fatigue Centers and was Medical House Officer at Montgomery Hospital and Medical Director of the facility's Ambulatory Care Clinics. He also served as Associate Medical Director of the Montgomery County Geriatric and Rehabilitation Center in Royersford, Pa. He has taught educational courses at universities and community centers.
Board certified and a fellow of the American Academy of Family Physicians, Dr. Garabedian is a graduate of Damascus University's Faculty of Medicine in Syria. He completed a rotating internship in medical, pediatric and surgical departments at Mercy Catholic Medical Center in Darby and completed his residency at Sacred Heart Hospital in Norristown, both in Pennsylvania.
More than 79 million Americans have prediabetes, defined as blood glucose levels that are high but not yet high enough for a diabetes diagnosis. People with prediabetes are likely to develop type 2 diabetes, a condition that can damage multiple organ systems and increase risk for heart disease, stroke, kidney damage and nerve damage.
PreDiabetes Centers is a private company based in Austin, Texas, dedicated to the prevention and treatment of diabetes. Treatment at the Center is based on physician-directed care and lifestyle intervention tailored for each client. The company offers a complimentary biomarker-based blood screening that can detect prediabetes, and also continuing biomarker tests throughout the personalized program to monitor specific processes in the body associated with prediabetic conditions.
Connect with PreDiabetes Centers on Facebook and the PreD blog!