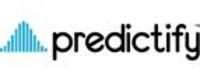 It's human nature to debate what's going to happen among friends
Menlo Park, Calif. (PRWEB) December 3, 2007
While presidential candidates battle it out for nominations and college football teams fight for the top spot in the rankings, Predictify offers a different kind of competition. Launched today, "Challenges" allow Predictify members to create a private prediction environment to compete against friends and determine who really has their finger on the pulse of what's happening in the world today.
Predictify is a prediction platform where members can find events that interest them, predict the outcome, build reputations based on their accuracy and even get paid real money when they're right. It's fun, easy to use, and absolutely free - there are no points, bets, or probabilities involved.
With challenges, participants can view each other's predictions, have private discussions and build a win-loss record based on their accuracy. Members can initiate a challenge based on questions currently on the site or post a question of their own. And there's no worry about uninvited guests crashing the prediction party - challenge pages are private, meaning that only challenge participants can view the page.
"It's human nature to debate what's going to happen among friends," said Parker Barrile, founder and CEO of Predictify. "Now you can take those discussions online and find out who really knows their stuff."
To challenge your friends, sign up at http://www.predictify.com today.
###