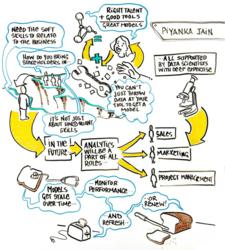 People new to analytics often mistakenly believe, that good models can be built by pressing the "build regression model" button...
San Francisco, CA (PRWEB) March 22, 2012
Piyanka Jain, President and CEO of Aryng (http://www.Aryng.com), took to stage at Predictive Analytics World held recently in San Francisco and shared the top myths of Predictive Analytics. Words like Big data and Predictive Analytics are catching fire, because of the immense power it can deliver to organizations. But the buzz has also created a whole slew of misunderstanding in its wake. In her keynote, Piyanka busted some of the top myths and shared with the audience her experience on effective decision making using data with or without predictive analytics.
She started with an apparent but not obvious assertion that Predictive Analytics is not new. With the recent buzz on predictive analytics, it does seem like some new technique. However, she cited use of credit scoring model dating back to 1930's-the time of great depression. Going further back in time she shared the use of astrological charts and mathematical computations in arranging marriages in India over the last several centuries.
Coming back to our present day, she also talked about another key misperception that good tools equate to good models. With tremendous development on the tool front with better GUI as well as higher automation, people new to this field often mistakenly believe, that good models can be built by pressing the "build regression model" button and that the software is "good" enough to give great business results. Even experienced analyst often find themselves frustrated that nobody in the business units seems to leverage their amazing model to drive revenue, largely because the connection between the model and the business is not apparent. So she highlighted that good model doesn't automatically mean good business results unless a proper method is used to bridge the gap between business and data. And lastly, often overlooked is the fact that models gets stale over time and if not maintained, often stops delivering its incremental value overtime.
Having highlighted some key myths of predictive analytics, she shared her experience in overcoming them, specifically how good models generate business impact when right stakeholders are brought into the analytics process at the right time building proper alignment toward actionability. She further showed how her experience translated into Aryng's data analytics training that professionals new to the analytics field can arm themselves with to drive increased analytics efficiency and effective models.