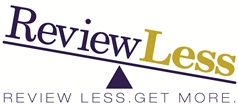 The lack of seed sets, the ease of use, the functionality and the sheer brainpower behind OrcaPredict . . . made it the right predictive coding choice in the Global Aerospace case.
Pittsburgh, PA (PRWEB) August 15, 2012
Karl Schieneman Esq., president of eDiscovery company Review Less and a well-respected national speaker on predictive coding, announced that Review Less has become a value-added reseller for the OrcaTec Document Decisioning Suite™, which incorporates predictive coding with advanced analytics.
"I've used OrcaTec in several cases," said Schieneman, "and their predictive coding has worked as advertised. Combine that with my great respect for Herb Roitblat and OrcaTec's strong analytics, and I knew Review Less needed to become an OrcaTec reseller."
Herbert L. Roitblat, Ph.D. is the CTO and chief scientist for OrcaTec."Karl is a premier figure in any discussions of predictive coding in eDiscovery," said Roitblat, "so we're delighted that he is coming on board to help promote and sell the OrcaTec Document Decisioning Suite."
Schieneman is on the team that helped Schnader Harrison Segal & Lewis LLP choose OrcaTec's OrcaPredict as the predictive coding to use in the Global Aerospace v. Landow Aviation case in Virginia, No. CL 61040 (Va. Cir. Ct. Apr. 23, 2012).
"The lack of seed sets, the ease of use, the functionality and the sheer brainpower behind OrcaPredict, including having Herb Roitblat as a potential expert witness, made it the right choice for Schnader in such an important case," said Schieneman. "We have all been very pleased with the way it is working."
Review Less has a predictive coding model that is unique in the legal industry, having offered consulting support to clients across a number of predictive coding tools since beginning to push for greater use of predictive coding in mid- 2010.
"We understand the differences between various predictive coding software offerings," said Schieneman. "When we can resell a product like OrcaTec, we can often reduce the rate and help brainstorm with our clients on areas such as negotiating predictive coding protocols, using tiered collection strategies, using different culling approaches, utilizing early case assessment approaches and broadly creating strategy with our clients. Frankly, we believe turning the meter off or offering sharp discounts enables us to offer the greatest value with our clients in this emerging field."
"We continue to try to educate the legal marketplace on the differences and similarities in technology assisted review applications," said Roitblat. "Having quality partners like Review Less and Karl in our corner will definitely help in the education process."
-------------------
About Review Less
Pittsburgh-based Review Less excels in offering predictive coding consulting and designing document review processes that are technically assisted and defensible with tested document reviewers. President Karl Schieneman has been studying predictive coding since 2010, and spends a great deal of his time educating judges and lawyers on its use. For additional information, see http://www.reviewless.com or call 412-992-7526.
About OrcaTec
Atlanta-based OrcaTec is reinventing eDiscovery by combining all-in-one smarter predictive coding, ECA and multi-faceted document review. Beyond keyword searching, the concept-based OrcaTec Document Decisioning Suite™ takes eDiscovery from data ingestion through document production, using concept search, predictive coding, visual clustering and other advanced analytics for no additional cost. The Suite is currently being used in the Global Aerospace litigation in Virginia because of OrcaPredict's predictive coding, which is unique in not requiring seed sets or pre-culling. See how OrcaTec can cut first-pass review time from weeks or months to just days with demonstrably high levels of accuracy and transparency at http://www.OrcaTec.com, or by calling 888-335-2200 x 2.