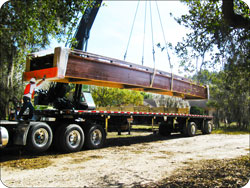 We strive for excellence in our prefabricated bridges and aim to deliver a bridge to our clients' doorstep that is low maintenance, that will survive generations and that will provide an exclusive look for our clients." stated James M. York.
Lutz, Florida (PRWEB) February 07, 2012
York Bridge Concepts (YBC) has constructed a 52-foot long timber prefabricated golf cart bridge that is currently in transit to Buenaventura Beach Community in the Republic of Panama. Located on the Pacific and only 80 minutes from the city, the resort-like beach community offers beachfront townhomes, lakefront villas and condominiums with luxury amenities which include a hotel, plaza, spa, dining, stables and a world-class golf course. The York Prefabricated Bridge will welcome golfers to the ninth hole of Buenaventura's Jack Nicklaus-designed, championship golf course.
The York Timber Prefabricated Golf Cart Bridge was custom-designed by YBC, keeping their first goal of longevity and second goal of minimal maintenance in mind while tying in aesthetic elements to have the bridge fit perfectly into the environment of a world-class golf course, enveloped in lush greenery and ocean views. "It is important that our design team understands all of the site requirements and the ultimate setting of the bridge so that we can supply our clients with a bridge that looks like it was built on-site, board by board. Our mission is to match each project's environment, architecture and style" stated James M. York, President of York Bridge Concepts.
The bridge was built using the latest in technology with a double coating to all the exposed elements of the bridge with a rich walnut colored, ultraviolet resistant sealer that assists in protecting the bridge from harsh elements, such as rain, severe heat and ultraviolet rays. Complementary saddle-colored composite runners create a path for golf carts to drive on, supporting longevity for the bridge by protecting the deck of the bridge from ongoing usage of golf carts. The exposed high-grade fasteners use the "duplex" system of galvanizing and painting. The additional features of the bridge components include high performance modern treated wood glulam stringers and high grade treated heavy timbers. As stated by Mr. York, "We strive for excellence in our prefabricated bridges and aim to deliver a bridge to our clients' doorstep that is low maintenance, that will survive generations and that will provide an exclusive look for our clients."
The prefabricated bridge was constructed at YBC's corporate headquarters in Lutz, FL with a deadline of eight weeks from contract to shipment. YBC is able to design and build a prefabricated bridge (from contract to shipment) in as quickly as five weeks, depending on the size and requirements of the bridge. Hoisted by a crane onto a flatbed truck, the bridge was shipped in one piece. YBC is managing the shipment of this 23,500 pound bridge to the Port of Everglades, FL where the bridge will once again be hoisted by a crane from the flatbed truck to a barge headed to the Port of Manzanillo, Panama. Once in port, YBC's client will then take over the handling, unloading, delivery and installation of the bridge at the Buenaventura Golf Course.
Buenaventura Beach Community will open the back nine holes of their golf course this month, shortly after installation of the YBC Prefabricated Bridge. They anticipate opening the entire course this March.
Follow YBC's bridge projects on Facebook at http://www.facebook.com/yorkbridgeconcepts.
About York Bridge Concepts
York Bridge Concepts, Inc. (YBC) is the nation's largest on-site timber vehicular bridge builder. YBC works with industry-leading owners and developers on prestigious projects throughout the U.S. and Internationally, creating more than just a solution for crossing lakes, streams, creeks, wetlands or ravines. In this competitive real estate market, developers who want to ensure that their project stands apart from the competition use York Bridges to add value and create a feeling of exclusivity, warmth, and quality for their customers. Based in Lutz, Florida, with almost 27 years of experience, YBC has become well-known for their expertise and cutting-edge innovation in timber bridge design and on-site construction.
YBC's Prefabricated Bridges
YBC's artistic, custom-design and engineering sets them apart from other timber bridge manufacturers with their belief that every bridge, including prefabricated bridges, should be a signature piece, an original, and add value and interest to clients' projects while offering them a vast array of options: Their clients can choose from multiple options including the span type, the camber (flat or arched), the types of paint and sealers, ornamental caps, powder-coated bolts, lumber type, treatments and aluminum and/or steel elements. YBC can create a signature look for commercial, residential or golf course projects with a unique York vehicular or pedestrian prefabricated bridge. York prefabricated bridges are shipped (in one piece) directly to the project site (or requested location) anywhere in the world, fully assembled and ready to install.
For more information, visit the York Bridge Concepts website at http://www.ybc.com.
# # #