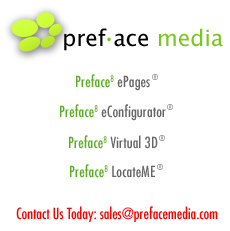 Dallas, TX (PRWEB) September 24, 2008
Brown Jordan, the first company to create furniture for full-time outdoor use designed to complement the leisure lifestyle, has gathered great acclaim from their customers and dealers with the launch of Custom Design Tool.
With its June redesign, Brown Jordan website showcases over 30 collections in a range of design styles and features Custom Design Tool powered by Preface8 eConfigurator that allows users to customize and visualize outdoor furniture from the comfort of their home. Custom Design Tool enables users to instantly view a variety of furniture styles and choices using fabric patterns, fabric colors, metal finishes, plastic straps/laces and other materials. Custom Design Tool also gives users the power to zoom and pan into each configured product at high resolution and magnification. The users can print out the image of the configured piece of furniture and take it to the nearby authorized dealer to place an order.
Preface8 eConfigurator proprietary imaging engine requires just one single high-resolution image per product while producing nearly unlimited number of product configurations, thus saving Brown Jordan hundreds of thousands of dollars in photography costs. With more than 30 pieces of configurable furniture and hundreds of fabrics and finishes, Custom Design Tool allows for more than 30,000 product configurations. To retain the high quality of product renderings, all images are stored on Preface8 Platform ensuring fast download times even with low-bandwidth internet connections. Thanks to this robust platform users never have to wait to zoom and pan the images.
To test drive the Brown Jordan Custom Design Tool, click here.
To find out more about Preface8 eConfigurator and see samples, click here.
About Preface Media, Inc.:
Preface Media Inc. provides client care, technical expertise, creativity, and integrity for Web applications. We develop and host custom dynamic Web content solutions that seamlessly integrate into your existing infrastructure and bring your business to life online. The Preface8 platform offers robust architecture for flash enabled catalogs, digital publications, virtual 3D presentations and rich media solutions. With experienced consultants and employees throughout the USA and Asia, Preface Media provides businesses with state-of-the-art knowledge and a full range of creative services.
Contact:
Kevin Yao
Preface Media, Inc.
Tel: 972.444.8462
Fax: 866.616.9556
Email: media @ prefacemedia.com
Web Site: http://www.PrefaceMedia.com
###