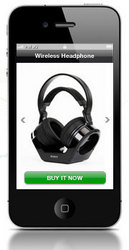 Dallas, TX (PRWEB) September 28, 2010
Preface Media is due to announce the most functional 360° product spin display for mobile applications this week. This innovative service will enable companies a new way to showcase their products. Any user with an iPhone, smart phone or other mobile device will be able to view items at a full 360°.
With more than 94 percent of the United States currently owning cell phones, the mobile shopping market is expanding at record pace. Preface Media is offering companies a way to get ahead of the curve by offering 360° photography for product display.
The feature will allow users to zoom up to 400 percent, pan, and rotate a full 360°. These features have never before been offered for mobile devices. Preface Media offers custom iPhone app and Smartphone application design and development to get these features to the customer.
Preface Media is an industry leader in 360° photography. Their fully equipped studio and professional staff provide a quick turnaround and beautiful shots that cost far less than traditional photography. Services can either be offered at the Preface Media at a very competitive price.
Traditional single photography lacks realism and interactivity. 360° photography makes products come alive. Each 360° presentation contains between 12 and 72 shots of the product from every angle. It can easily include additional sets of 12-72 shots at 15°, 30°, 45°, 60° or 90° elevations. The mobile viewer provides true 3D experience for products with intricate detail. Images from all angles seamlessly combine for smooth animation, rotation, panning and zoom with intuitive controls. The result is like holding the product in your hands, allowing for complete inspection before a confident purchase.
For skeptics of such advanced technology, take a look around. A simple walk down a city street will easily demonstrate what we already know: mobile phones are everywhere. Customers have the ability to shop from anywhere- be it on a subway, in a restaurant, or in the comfort of their own homes.
About Preface Media, Inc.
Preface Media Inc. provides customer care, technical expertise, creativity, and integrity for all web and mobile applications. Our custom solutions can be easily integrated into an existing infrastructure and your business will reach an entirely new online presence. MediaSpin360 will showcase your photography needs at a new, 360 degree angle that will enhance your products. Preface Media is your one stop shop for all media needs; interactive product configuration, online video demos, flash digital magazines, and virtual 3D.
Contact:
Jessica Washington
Preface Media, Inc.
Tel: 972.996.4717
Fax: 866.616.9556
Web Site: http://www.PrefaceMedia.com
# # #