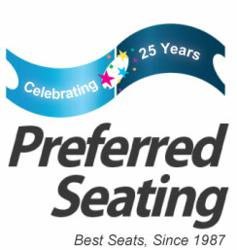 "To be celebrating our 25th anniversary is surreal, but most of all thrilling," says Preferred Seating owner, Greg Cullen. "We are excited and proud to be able to reward our most loyal customers and fans with 'Ticket to Win.'
Sacramento, CA. (PRWEB) September 12, 2012
Starting immediately and running through the end of March 2013, customers of Preferred Seating Tickets can be rewarded for their loyalty by entering into the company's 25th Anniversary "Ticket to Win" Contest. Preferred Seating fans can easily enter "Ticket to Win" by liking the company's Facebook page or by following the company's Twitter or Pinterest pages.
In return for the customer loyalty, Preferred Seating will randomly draw a monthly prize, the first to be drawn September 30, 2012 and the last to be drawn March 31, 2012, each month giving away a $250 Preferred Seating gift certificate, good towards any purchase at PreferredSeat.com. Multiple entries are not necessary; however, by following Preferred Seating on Facebook, Pinterest and Twitter, customers have three chances to win each month. Once a name has been drawn, it will not be re-entered for future drawings.
The grand prize for the "Ticket to Win Contest" is a $1,000 gift certificate towards Preferred Seating tickets sold at PreferredSeat.com, plus a $100 restaurant gift certificate and a $50 gas card. The grand prize winner will be drawn on April 11, 2013.
"To be celebrating our 25th anniversary is surreal, but most of all thrilling," says Preferred Seating owner, Greg Cullen. "We are excited and proud to be able to reward our most loyal customers and fans with 'Ticket to Win.' We also hope new customers will join in on the fun and become followers of our company and ultimately returning customers, based on the business model we've had since our first day 25 years ago."
Customers of Preferred Seating can enter the contest starting today by visiting the following Preferred Seating social media outlets (the company encourages customers to follow all social media campaigns, as each one is different, offering multiple specials and offers on each page):

Preferred Seating Tickets has been a leading provider of Preferred tickets for concerts, sports and theater since 1987. Fans can find a variety of Preferred Seats, VIP seats, front row seats and discounted tickets without any hidden fees for events around the country. Some of the reasons our customers return again and again are:

PreferredSeat.com provides access to some of the best seats either online or by phone.
You can find tickets without any hidden fees and easily compare our cheap Preferred Seating ticket prices against the competition.
Your tickets are guaranteed to be authentic.
We provide a safe site to purchase tickets with up-to-date secure transaction software and firewalls.
The Preferred Seating Tickets A+ Better Business Bureau grade is one of the best in the ticket broker business because we have zero complaints. Customers know they can count on our great customer service and reliability.