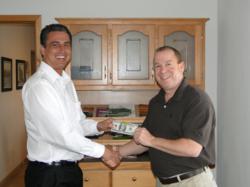 Preferred Warranties helps us sell cars and gives us an extra profit stream, but I didn't expect a bonus like this so soon.
Taylor, MI (PRWEB) April 26, 2011
Plenty of companies boast about customer service, but Preferred Warranties Inc. is putting its money where its mouth is – almost literally.
It has become known as "the 5-Ring Challenge" – a guarantee to auto dealers from this provider of extended service contracts that a customer service rep – not a voice mail system – will personally answer the phone during normal business hours within five rings. Preferred Warranties (PWI) uses the challenge to demonstrate to new and prospective dealerships the high level of service that supports their protection plans for pre-owned cars, SUVs, trucks, motorcycles and ATVs. If the phone isn't answered within five rings, the dealer is given a $100 bill on the spot.
"We began the challenge in 2008," explains Wayne Herring, Jr., PWI's national sales manager. "Last September we added a new twist to show dealers how serious we are about being responsive. We gave each of our regional sales consultants a crisp $100 to put right on the table when the dealer makes the call. And we just gave the first one of those bills away."
John Yurkovich Auto Sales in Taylor, Michigan, began selling Preferred Warranties in March. When PWI consultant Leo Diroff dropped by to see how the new account was doing, he suggested the two owners take the 5-Ring Challenge.
"My partner called first and they answered on the second ring," recalls Jim Beasley, co-owner of the dealership. "A little later Leo suggested I give it a try too."
Jim called PWI's toll-free number. When a customer service rep didn't answer until the sixth ring, the PWI sales consultant handed him the $100 bill on the spot.
"Everybody was amazed," said Jim. "Preferred Warranties helps us sell cars and gives us an extra profit stream, but I didn't expect a bonus like this so soon."
According to PWI, this was the first time that the prize was awarded since last September when the sales consultants began using the actual $100 bills to make the challenge, and only the second time since the 5-ring concept was introduced in 2008. Initially, their sales reps carried $100 coupons that they could validate and hand over if the call wasn't answered within five rings.
"Looking at how many calls our sales consultants make and how many times they've issued the 5-Ring Challenge, we figure that our record so far is 367-2," adds Wayne Herring.
Preferred Warranties Inc. has been a quality leader in aftermarket vehicle protection plans since the company was founded in 1992. In 1998, it was ranked #179 on the Inc. 500 list of fastest growing U.S. companies and earned a Torch Award for Marketplace Ethics from the Better Business Bureau. The company continues to be rated A+ by the BBB. Today, Preferred Warranties are available through dealerships in 16 states: Alabama, Delaware, Georgia, Indiana, Kentucky, Maryland, Michigan, New Jersey, North Carolina, Ohio, Pennsylvania, South Carolina, Tennessee, Texas, Virginia and West Virginia. More consumer and dealership information is available on their website, http://www.warrantys.com.
###