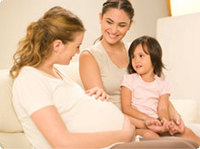 The clubNUTRICIA LiveChat tool is a revolutionary approach in pregnancy & parenting support in Australia
(PRWEB) May 27, 2010
Over 30,000 mums-to-be and new mums have joined clubNUTRICIA Baby Club in its first year, surpassing Nutricia Australia's expectations.
Launched in 2009, the clubNUTRICIA website is a convenient and beneficial go-to guide for a large range of topics from pregnancy through to toddlerhood, at no cost to the mother.
The key to the quick success of the baby club pays a large thanks to the support of its Advisory Service. The site offers free one-on-one expert advice through personalised emailing or by calling 1800 258 268 to speak to one of their qualified healthcare professionals.
The clubNUTRICIA website also hosts a LiveChat service where mums and mums-to-be connect with a member of the Advisory Service team and receive expert advice and information. One-on-one advice is given on a large range of topics, from morning sickness, pregnancy nutrition, and preparing for labour right through to feeding problems, allergies and introducing solids.
"The clubNUTRICIA LiveChat tool is a revolutionary approach in pregnancy & parenting support in Australia and is something every expectant and new mother can benefit from." said Paula Brasovanu, clubNUTRICIA Advisory Midwife.
"Being pregnant is an amazing and exciting time, but it also comes with a lots of questions. Our team is passionate about what they do and we are here to help mums and mums-to-be with any concerns or questions they have."
The clubNUTRICIA Advisory Service is made up of a group of qualified experts including Dietitians, Nutritionists and a Midwife, with a broad knowledge base that has been gathered from years of practicing experience in their fields.
By following the easy step-by-step system, mums and mums-to-be can register for the club online to receive personalised emails matching the mother's stages of pregnancy or their child's development. Members can share their experiences with each other through the Mums' Stories section and on the Discussion Forums, and find other mums using the clubs Friend Finder. New members also receive a free welcome gift when they sign up.
For more information or to register visit the clubNUTRICIA website.
# # #