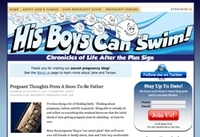 His Boys Can Swim: Chronicles of Life After the Plus Sign
Houston (PRWEB) February 3, 2009
Remember the old wives' tales that told men if they wore tighty whities or drank a lot of Mt. Dew, their boys wouldn't be able to swim? Couple Tarzan and Jane found out it's just not so, and they're both sharing their pregnancy journey with the world at their super secret and often humorous new blog, "His Boys Can Swim: Chronicles of Life After the Plus Sign".
What makes "His Boys Can Swim" a super secret blog? The fact that Tarzan and Jane aren't telling anyone they know about it. Ever.
"…we're not telling our friends, family or anyone in the world about our pregnancy blog, which allows us to share everything. And we mean everything," says Tarzan.
The couple is using the blog to share their views on the realities of pregnancy with other parents and parents-to-be in often humorous ways. "One pregnant woman said she laughed so hard at a recent blog post that she thought she was going to go into labor," laughs Jane.
Many readers can relate to Jane's battles with first trimester nausea as she discovered that whoever named it morning sickness needs to be shaken, while sympathizing Tarzan finds ways to deal with his wife's raging hormones through his writing.
"Why is the size of our baby always compared to a fruit?" laughs Tarzan, referring to emails Jane forwards him every week showing the size of their baby compared to a plum, for example in pregnancy week 11. "I decided to do something about it and created the first http://www.hisboyscanswim.com/605/tarzans-ultimate-guide-to-baby-sizes-week-by-week-for-soon-to-be-fathers Guide for fellow soon-to-be fathers."
Jane, with an affectionate eye roll, has her own views on pregnancy.
"This pregnancy stuff is hard…I just want to get through a whole 24-hour period feeling good, and not have to wonder if the peanut butter, egg, olive, cheese, Dorito, and pickle sandwich with a side of grapes and chocolate I just ate is going to make me sick," the young mother-to-be states.
Like so many pregnancies today, Tarzan and Jane's gestating infant came as a complete surprise to the couple. Recently married, the two were determined to resist their parents' pleas for grandchildren for a few more years. Little Tarzan Jr. had other plans.
"I was a little shocked," confesses Tarzan. "We weren't prepared. We have no idea what we're in for, and I blame it on us having too many jello shots on Halloween."
The couple's no-holds barred look at the intimate side of pregnancy has been tremendously popular with their readers since its December launch. His Boys Can Swim now has over 3,518 followers on http://www.twitter.com/hisboyscanswim in less than 40 days. The blog's appeal to both men and women recently earned it the title of 'Blog of the Day' by a Blog Awards website.
More importantly, it's offering Tarzan and Jane the chance to connect with their readers and share the fears, tears, and thrills of pregnancy with an international community of parents and soon-to-be parents just like them.
"We're having a blast with our http://www.hisboyscanswim.com", says Jane. "Where else will you read posts titled, 'Pregnancy Gas: Wife's Early Pregnancy Gas Drives Husband Out Of House' or, 'Holy Nipples And Blue Veins'?"
For more information or for press inquiries, visit the blog at: http://www.hisboyscanswim.com
Contact:
Jane and Tarzan
Phone: 713-568-9779
Contact form located on: http://www.hisboyscanswim.com
###