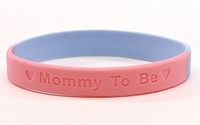 We take pride in making sure our members feel special and get what they're looking for.
Albuquerque, NM (PRWEB) June 11, 2008
In celebration of its 10 year anniversary last year, BabiesOnline.com created thousands of silicone Pregnancy Wristbands ( http://www.babiesonline.com/wristbands ) to give to expectant moms across the U.S. Embossed with the words Mommy To Be, the trendy pink and blue bracelets were so popular that the program has been extended through the end of 2008.
Shannon Anderson, founder of Babies Online says, "So far we have given away over 100,000 wristbands and the feedback has been absolutely stellar." She continues, "Moms love them not only because they're cute, but also because their pregnancy status can be brought to the attention of emergency personnel if they are unable to communicate after an accident."
In addition to the free pregnancy wristbands, soon to be moms can also request free baby product samples, free magazine subscriptions, diaper coupons, and more.
Babies Online debuted as the original Free Online Birth Announcement Service in July 1997 and it has since evolved into one of the Internet's leading resources for new and expectant parents. Its most popular services are:

Free Online Birth Announcements
Fun Due Date Calculator & Birthday Facts
Pregnancy Week-by-Week Calendar
Baby's First Year Development Calendar
Free Baby Stuff Listing
"There are many baby and pregnancy sites out there but Babies Online is a labor of love, and until recently, a one-woman show," Anderson says. "We take pride in making sure our members feel special and get what they're looking for."
Babies Online's newest undertaking, Babies Online - The Blog ( http://blogs.babiesonline.com ) features news, tips and ideas for new moms, written by moms.
Visit BabiesOnline.com today to take advantage of its many free offers, in-depth information, and fun services. Make sure you also claim your free pregnancy wristband while supplies last.
About Babies Online:
http://www.babiesonline.com
Your guide to all things pregnancy, baby and parenting, Babies Online is a comprehensive online resource for new and expectant parents in operation since 1997.
###