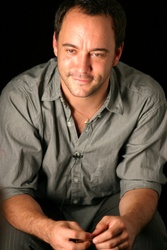 Dave very passionately explained that the traditional record deal no longer works
Austin, TX (PRWEB) June 25, 2008
When rock star Dave Matthews granted an interview to discuss the state of the music industry, author Dani Rasmussen was present on set with her filmmaker husband. Little did she expect that Matthew's sage advice for musicians would change her life as an author. "We took our time getting signed", says Mattews in the film 'Before the Music Dies', "so we could negotiate a much better deal, because we'd already built a large following."
"Dave very passionately explained that the traditional record deal no longer works," says Dani. "The way that musicians can succeed in today's market is by taking direct responsibility for their careers and marketing, and building an audience before ever seeking a deal. It's the model of ATO Records, the successful independent label that Dave co-founded. I realized that his advice is just as relevant for authors through self publishing."
Taking his cue, Dani self published the now bestselling "Essential Pregnancy Organizer: 40 weeks+" with co-author Antoinette Perez. Recently featured on "Oprah & Friends," the smartly written guide gained a large and vocal following. With the book's success publishers came calling. "But the deals they were offering were just as one-sided as what typical record labels offer new artists. We needed to find the smart new independent publisher, like (Matthew's) ATO."
Enter Greenleaf Book Group. Based in Austin, TX, the publisher/distributor offers an author-focused publishing and distribution model that allows authors to keep their copyright, and expects them to be directly involved in the marketing and promotion of their books.
"For too long now, publishers have been forcing authors to give up control, profits, and their sanity," says CEO Clint Greenleaf. "We serve our authors by giving them more control over their projects and more money for every book sold. We have this crazy idea that if we are partners with our authors, we will all work together to sell books and make money. It's proven to be a great model."
Rasmussen says, "Greenleaf is the ATO of publishing, because they have the same smart, pragmatic approach to working with their partners, and they build long term relationships rather than focusing on quick hits. With them we can now reach a much larger audience, but we remain responsible for the book's success or failure. It can be scary, but that's the future of publishing."
"The Essential Pregnancy Organizer" and "Essential Baby Organizer" are available at Borders, Barnes & Noble, and hundreds of independent bookstores around the United States.
About "The Essential Pregnancy Organizer: 40 weeks +®":
Dani Rasmussen and Antoinette Perez are professional women and busy moms. While pregnant, they each searched for an organizational tool to manage pregnancy details and new baby preparations. After coming up empty handed, they teamed up with the goal of creating an objective, user-friendly, and attractive organizer. The combination of their ideas, in addition to interviews with numerous OBs, midwives and other parents-to-be, resulted in "The Essential Pregnancy Organizer: 40 weeks +".
About Greenleaf Bookgroup®:
Named to the Inc. 500 in 2006, Greenleaf Book Group, an Austin-based international book publisher and distributor, is one of the fastest growing companies in the United States. Since being founded in 1997, they have represented more than 700 titles, including two titles that blitzed the New York Times, Wall Street Journal and USA Today bestseller lists last year. Greenleaf is best known for their selectivity, innovative business model, distribution power (bookstores, airports, grocery stores, and beyond) and award-winning designs. You can learn more about Greenleaf on their website at greenleafbookgroup.com.
Arrange an interview with the author by calling Joel Rasmussen at 512-586-2747, or visit essentialorganizers.com.
###