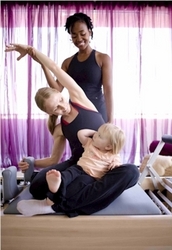 The majority of my patients report notable improvements in back and hip pain and an increase in stamina and strength after treatments. Pregnancy requires specialized physical therapy to strengthen the pelvic floor, hip, and core musculature which is essential for a pain free pregnancy, shorter delivery and faster recovery
Los Angeles, CA (PRWEB) March 18, 2009
New research studies from the Mayo Clinic are confirming the benefits of regular exercise during pregnancy and in fact, prenatal exercise, which targets specific pregnancy issues vs. traditional exercise at the gym or running, can help a woman prepare for labor and delivery by increasing core muscle strength and stamina.
So it is important that even during these difficult economic times, new mothers do not cut out prenatal healthcare expenses, but rather proactively seek specialized physical therapy pregnancy exercise, which is covered by insurance. Taking preventative measures can reduce the risk of pregnancy complications and lessen the need for more medical intervention during and after pregnancy. Being in good physical shape can even shorten labor and speed recovery and this can mean shorter hospital stays and getting mothers back home sooner.
Bebé PT fills a void and growing need in Los Angeles for specialized physical rehabilitation and preventative services exclusively for prenatal and postnatal mothers. In response to increased demand, Bebé PT opened a second office and there are plans to further expand. In recent years, new studies show a trend that younger women are no longer postponing childbirth to focus on their careers but opting to have babies earlier. According to the National Center for Health Statistics, the average age at which women give birth for the first time, at the mean age of 25 in 2006, has posted the first decline since the government began tracking this date in 1968.
Research available at the National Center for Biotechnology Information (NCBI) shows 80% of pregnant women of all ages experience low back pain as well as hip pain. Many women also have difficulty recovering from c-sections. Caesarean delivery rates rose to 31.1% in 2006 and new mothers are challenged by nursing, changing and lifting infants after abdominal muscles have been operated on and are severely compromised. Some women also report postpartum carpal tunnel syndrome due to caring for their babies.
Dr. Jeannine Rahimian *, age 37, is a mother of two and an obstetrician at the David Geffen School of Medicine at UCLA. As an OB/GYN, she had often referred her clients to Bebé PT, a rehabilitation clinic that offers specialized prenatal physical therapy exercises for pregnancy. But it was not until she suffered severe back pain after picking up her 17-month-old daughter Leila while she was 7-months pregnant with her son Benjamin, that the benefits of doing prenatal exercise hit home.
Not only Rahimian, but also her own OB/GYN noted the significant difference in Rahimian's abdominal muscles during her second pregnancy. When Rahimian had her first c-section, her OB/GYN had mentioned that her rectus muscles (abs) and fascia were very weak and that she would likely not be able to ever achieve a flat stomach unless she did Pilates twice a week for many years. At the time of her second c-section (which followed about 8 weeks of therapy and Pilates sessions at Bebé PT), Rahimain's OB/GYN remarked that there was a noticeable difference and the muscles were obviously stronger and more firm than during her first pregnancy.
Rahimian said, "The therapy sessions did wonders in terms of relieving my back pain and the private PT Pilates sessions definitely shortened my recovery time. I was more fit and strong and ready to resume exercise and activity three weeks after having a c-section."
"The majority of my patients report notable improvements in back and hip pain and an increase in stamina and strength after treatments. Pregnancy requires specialized physical therapy to strengthen the pelvic floor, hip, and core musculature which is essential for a pain free pregnancy, shorter delivery and faster recovery," said Martina March, MPT, a co-founder of Bebé PT. "We know that pregnancy and being a new mother is physically exhausting so we also tried very hard to make Bebé PT a haven for pregnant and new mothers by providing treatments and wellness services such as Pilates, yoga and massages."
Physical therapists treat common diagnoses such as low back pain, hip and pelvic pain, carpal tunnel syndrome, shoulder and neck strain, and cramping, as well as other common prenatal and postnatal problems. Common treatments include soft tissue mobilizations, therapeutic exercises to address specific patient impairments, Pilates-style stabilization exercises, and taping techniques for pain relief.
Bebé PT also provides postural education and training to postnatal mothers, showing new mothers the proper way to lift and carry their baby, and optimal nursing and carrying positions to minimize the risk of exacerbation of low back pain. In addition, Bebé PT offers group yoga, Pilates classes and massages, and hosts a variety of lectures and services such as lactation consulting and various support groups.
Located in Los Angeles, physical therapists at Bebé PT specialize in women's health, prenatal care, and postnatal care. Services are covered by insurance with a physician's prescription for physical therapy and patients are only responsible for a co-pay. Bebé PT is a preferred provider for more than 500 PPO insurance plans and some HMO plans. Free parking is provided. For more information, visit http://www.bebept.com.
For case studies on Rahimian and other real moms who have experienced common problems and injuries during their pregnancy and delivery, and benefitted from pre-and postnatal physical therapy, visit http://www.bebept.com/bebept/press-room.html. Interviews can also be arranged.
###