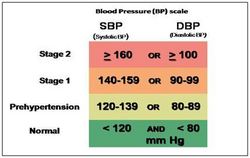 Experts from a large number of fields in medicine will be gathering to discuss the new term "Prehypertension" in a unique breakthrough -Prehypertension & Cardio Metabolic Syndrome International Conference
(PRWEB) October 11, 2010
Prehypertension is a new category of blood pressure defined by the seventh report of the Join National Committee as systolic and diastolic BP: 120 to 139 mm Hg and 85 to 89 mm Hg, respectively. It has also been defined as borderline hypertension and high normal hypertension by the ESH guidelines.
The new category of Prehypertension / high normal hypertension is in the continuum to hypertension and is emerging as a most important and treatable risk factor for cardiovascular disease.
This unique Prehypertension and Cardio Metabolic Syndrome conference will discuss features of this new "risk category", as well as the established risk factors and treatments for cardiovascular disease. It will focus on the public health cardiovascular disease impact, identification, etiology and pathogenesis of Prehypertension as well as on intervention for preventing the adverse outcome of this very prevalent condition.
A high quality scientific program will cover a wide range of compelling topics such as Hypertension, Diabetes, Dyslipidemia, Obesity and Cardio Metabolic Syndrome. The scientific committee includes worldwide speakers in the field.
A wide range of physicians and researchers are expected to participate in this international event, including Nephrologists, Endocrinologists, Internal Medicine experts, Primary Care experts, Cardiologists and Imaging experts.
As a backdrop to the Prehypertension and Cardio Metabolic Syndrome Conference, he spectacular and romantic venue and sights of Vienna, Austria. Vienna is one of the most beautiful and cultural cities in Europe, known for its history, art and architecture. Offering participants the opportunity to enjoy the sights of this most fascinating city, this conference is sure to be an event to remember.
For further information please visit http://www.prehypertension.org
# # #