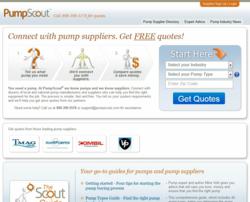 Tacoma, WA (PRWEB) September 28, 2012
Industrial pump buyers can now get price quotes for VARNA Products – including the company's popular pre-lube oil pumps – on PumpScout.com. PumpScout.com and Varna announced their new partnership this month.
"VARNA Products and their sales team have an excellent reputation in the industry," says PumpScout.com co-founder and CEO Justin Johnson. "We know they'll provide great service and prompt, competitive price quotes to the pump buyers using our site."
Based in Cameron, Calif., VARNA Products specializes in pre-lube oil pumps. Engines suffer 90 percent of their wear and tear in the period between when they begin to turn at startup and when the fresh oil from the sump reaches the moving parts.
In fact, operators of large engines used to keep their machines running to avoid that extra wear. Now the high cost of fuel and emission regulations mean engines must be shut down more often. But VARNA's pre-lube pump system helps keep engines in top condition – and extends their life – by putting oil where it needs to be before the engine begins moving.
"Investing in a pre-lube pump system often pays for itself by significantly lengthening the life of the engine," Johnson says.
VARNA Products offers two specialized pre-lube oil pumps, the CF-15 and the EP-4. The company also offers a line of transfer and circulating pumps, gear pumps, metering pumps and a number of controls for pump applications.
Industrial pump buyers can get quotes from VARNA and other pump suppliers by filling out the interactive quote tool at PumpScout.com. Buyers enter information about the type of pump they need, and PumpScout.com not only provides a list of companies that offer the appropriate pump, but also allows buyers to immediately request price quotes.
"We hear from engineers, maintenance professionals and purchasing agents daily about how PumpScout.com is streamlining their pump buying process – saving them time and money," Johnson says.
About PumpScout.com
PumpScout.com is a pump supplier search engine featuring more than 170 companies and their product lines. PumpScout.com connects pump buyers with manufacturers and distributors, and provides them with quotes – fast and free.
PumpScout.com is the pump buyer's single source for pump suppliers and consumer information, tools and tips on buying and maintaining all kinds of industrial pumps. For more information, visit PumpScout.com.