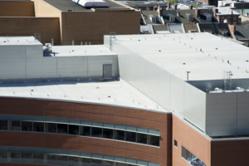 Hospitals have zero tolerance for disruption, and reducing environmental impact is important to them. All these things make Garland the right fit for this market.
Cleveland, Ohio (PRWEB) August 28, 2012
Garland/DBS, Inc. has been awarded a second three-year contract with the Premier healthcare alliance for roofing products, systems and services. The contract enables Premier members to purchase from the complete Garland catalog of materials and services for the total building envelope. Under the contract, private healthcare organizations participating in the alliance will receive pricing discounts on par with the preferred pricing available to public institutions purchasing via Garland's General Services Administration (GSA) contract.
The aging Baby Boom generation is expected to spur healthcare construction to the tune of $87 billion, according to The Advisory Board, a healthcare consulting service. At the present time, 40 percent of that sizeable market is represented by Premier's membership.
According to Eric Younkin, Garland's operations manager and National Premier Program Manager responsible for implementing the Premier contract, "Hospitals, long-term care facilities — both renovation and new construction — are going to be part of the solution to the growing healthcare needs of aging Americans. Healthcare providers are not looking for quick fixes. They need long-lived solutions that provide a life-cycle return on initial investment. Hospitals have zero tolerance for disruption, and reducing environmental impact is important to them. All these things make Garland the right fit for this market."
Garland has custom-configured several of its high-performance waterproofing system and service offerings to meet the specific needs of the healthcare market. These include a:
• Wellness Restored™ system for restoring mature roofs over patient or administrative areas

Eco-Health™ systems for roof replacements or new construction over patient or administrative areas
RX Protects™ system designed to keep healthcare buildings densely populated with rooftop equipment watertight
Dry Zone® preventive maintenance programs, including Leak Response Services, customizable to meet the critical response needs of healthcare facilities
Storm Zone™ programs to help healthcare facilities restore services quickly following storms or other natural disasters
The Premier healthcare alliance serves more than 2,600 U.S. hospitals plus over 84,000 other healthcare sites by collecting and analyzing clinical and financial data and sharing that knowledge with its members in order to promote best practices that allow healthcare institutions to provide reliably high-quality healthcare at the lowest cost. Specific member services include group contracting for hospital products and services that leverages the buying clout of a large group of hospitals to benefit all participating members.
The Garland Company, Inc. is a worldwide leader of quality, high-performance roofing and building maintenance systems for the commercial, industrial and institutional markets. For over 100 years, Garland has continually developed unique product and service offerings that raise industry standards of performance in order to meet the technical performance requirements of a wide range of challenging waterproofing applications throughout the world. Its 200 local representatives are strategically positioned throughout the United States, Canada, and the United Kingdom to provide integrated product and service solutions for single and multi-property facilities. The Garland Company, Inc., headquartered in Cleveland, Ohio, is an ISO 9001:2008 certified company.
For more information, visit http://www.garlandco.com, or contact your local Garland representative at 1-800-321-9336.