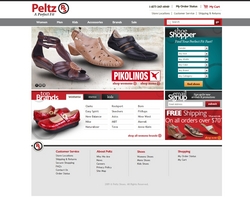 Bayshore Solutions took my vision and turned it into results. They developed a website that is appealing and makes it easy for my clients to find what they are look for – and buy it.
Tampa, FL (PRWEB) May 27, 2010
Premier online shoe store Peltz Shoes has partnered with local SEO Tampa Fla., firm Bayshore Solutions to bring results for their new website. The client wanted an appealing website that provided visitor usability, overall sense of online purchase security and search engine optimization that followed best practices.
Peltz Shoes is the #1 shoe store in Pinellas County, Fla. The premier online shoe store houses over 150,000 pairs of shoes and was in need of an updated web design and online marketing strategy.
The Internet marketing Tampa strategy team complemented the appealing web design by optimizing landing pages, managing Pay Per Click Advertising campaigns, reviewing analytical e-Commerce data, tracking e-mail conversions, conversion tracking strategy, optimizing local listings and developing a link building strategy and other tactics.
Online brand name shoes prove to be good business for Peltz Shoes. The local SEO Tampa firm implemented SEO best practices and since the launch of the new website the client has seen a tremendous amount of notable results. In the first three months revenue has grown by 166% from 2009 to 2010 and organic non-branded revenue has also seen an 82% increase over the first 3 months.
Co-Owner Gary Peltz of Peltz Shoes noted, "Bayshore Solutions took my vision and turned it into results. They developed a website that is appealing and makes it easy for my clients to find what they are looking for – and buy it. We look forward to continuing our partnership with Bayshore for ongoing results in our Web marketing initiatives."
Peltz Shoes partnered with Bayshore Solutions to expand online business, build upon online brand perception, generate revenue and increase sales.
Bayshore Solutions began with an overall assessment of the Peltz Shoes' website, including a usability study and review of online marketing best practices. From the results of the assessment a new site was designed and developed with fluid functionality and user friendly navigation. The new site was also developed to contain dynamic keyword rich Meta data and SEO friendly content.
Bayshore plans on continuing to grow upon the online marketing tactics and strategies that are already in place by advancing into drip e-mail marketing and social media efforts.
For more information about the shoe brands available at Peltz visit their website at PeltzShoes.com.
About Bayshore Solutions
Internet marketing Tampa firm Bayshore Solutions offers award-winning capabilities to provide measurable results by implementing internet marketing strategies for businesses. Bayshore Solutions was founded in 1996 and has delivered web development, online marketing and web design services throughout the USA and internationally with physical offices accessible to Tampa, Orlando, Miami, Fort Lauderdale, Dade County, and Broward County in Florida.
For more information about visit our website at BayshoreSolutions.com
Follow us on Twitter @BayshoreWebPros or like us on our Facebook page.
# # #