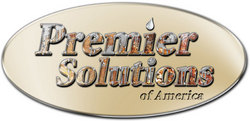 Deliver our clients eco-responsible solutions that help them save time and money. - Bruce Conley, PSA President
Florence, AL (PRWEB) November 11, 2010
Premier Solutions of America Inc (PSA) http://www.PSofAmerica.com is proud to announce our new eco-friendly products that are biodegradable, non toxic, easy to use and apply. PSA's paint and/or powder coat remover (EFS 2500) has been engineered to replace hazardous methylene chloride (MeCl) based paint strippers. MeCl is a carcinogen and is a chemical classified as a Hazardous Air Pollutant (HAP) by U.S. EPA. It is also classified as a Toxic Air Contaminant (TAC) in California. Our paint and/or powder coat stripper (EFS 2500) product is a safe, green alternative to methylene chloride strippers. EFS 2500 currently meets new United States Federal regulations with regards to paint strippers effective January 11, 2011. All of our products' ingredients comply with U.S. EPA rules on airborne emissions.
Spotlight Industry – Aviation
Boeing Technology Services conducted and completed a successful D6-17487 "Evaluation of Airplane Maintenance Materials" on Biodegradable Paint Stripper EFS 2500 (May/2007). Boeing performed materials evaluation tests for Sandwich Corrosion, Immersion Corrosion, and Hydrogen Embrittlement. View complete "Test Passed" document here: http://www.psofamerica.com/docs/Boeing_D6-17487_Test_Passed_Paint_Stripper_EFS_2500.pdf
Although there are other aircraft paint removal products, PSA's environmentally friendly product; EFS 2500 paint stripper stands unique in its value and product performance. EFS 2500 has been specially formulated to comply with today's strict Volatile Organic Compound (VOC) regulations in Canada and the United States. EFS 2500 already complies with California EPA's strict VOC regulations. California is the leading all states in the fight against these types of chemical pollution.
Salvage Inventory Services for Manufacturers
PSA is partnering with U.S. based manufacturers producing of all types of products containing paint and/or powder coatings. Paint line production errors constitute a significant amount of capital loss and waste. PSA is helping turn painted products that have been damaged during manufacturing into revenue generating inventory; boosting our clients' profit margins. Contact PSA's friendly staff today to discuss your specific industry challenges and implement our profitable solution: http://www.psofamerica.com/contact
Paint Line Equipment Cleaning Solutions
Manufacturers with internal paint shops and/or utilizing paint line equipment to produce products clearly recognize the need to clean and maintain paint line gear. PSA offers biodegradable solutions to remove excess overspray paint / powder coat from production line hooks and hangers. Premier Solutions of America Inc can show you how to create a paint removal procedure that is performed on-site at your facility. Our simple 2-step process eliminates the need to outsource. If you are still transporting your equipment off-site and paying high labor costs, then your bottom-line profits are being taxed. PSA offers custom solutions built for your business based on your requirements. Begin by calling us today 888-405-4554.
Many Applications for Our Eco-Products
Both retail and wholesale buying options are available from PSA. For the retail side, we encourage homeowners to contact us (888-405-4554) with problem paint stripping jobs that are taking too long complete and waste too much money resolving. We welcome your challenges!
Master distributors currently selling methylene chloride (MeCl) based paint strippers and paint removal products are encouraged to contact us. PSA will help you setup product replacement stock cycles to meet the upcoming January 11, 2011 EPA regulatory deadline. Important note: If your customers choose to use methylene chloride after this date; they must comply and implement EPA's new lengthy documentation process. Offer your clients an alternative paint stripping and paint removal product that is safer and does not require the paperwork and processes of using MeCl paint strippers in 2011 and beyond.
About Molecular-Tech Coatings and Premier Solutions of America
Molecular-Tech Coatings (MTC) http://www.m-tc.com has manufactured high technology chemical products since 1998 from their facilities in Maple Ridge, British Columbia, Canada. The company specializes in manufacturing industrial coatings and custom built paints.
Bruce Conley, President of PSA, has brought Canadian-based Molecular Tech Coatings' new technology into the United States. PSA manufactures and distributes bio-friendly products to the United States and Mexico marketplaces. PSA's corporate offices, manufacturing plant, and distribution center are located in Florence, AL. Our biodegradable products are non-acidic, non-flammable and non-hazardous, which means they can be shipped via UPS, Fed Ex, or any other common carrier service. PSA is the only licensed U.S. manufacturer and distributor of the EFS 2500 product line.
Premier Solutions of America is a green company, dedicated to manufacturing and distributing only environmentally friendly products. For more information regarding EFS 2500 as well as our other alternative green products and industrial solutions, visit the company website at http://www.PSofAmerica.com or call 888-405-4554
Contact:
Bruce Conley - President
Premier Solutions of America Inc
888-405-4554 / 256-767-4554
Bruce(at)PSofAmerica(dot)com
http://www.PSofAmerica.com
# # #