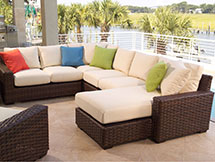 We expect more shoppers to find and stay on our website, and enjoy a better overall shopping experience.
Natick, Mass. (PRWEB) April 17, 2012
Premiere Adirondack Chairs, a leading online provider of patio furniture, announced a full website redesign this week, which includes a new and improved user experience and greatly-expanded product lines.
Since 2008, Premiere Adirondack Chairs has been selling customers high-quality outdoor patio furniture with a high-commitment to style, as well as durability.
The company has built relationships with manufacturers that make outdoor patio furniture that is stylish and durable. After three years in business, more and more shoppers are gravitating toward the site, and owner Doug Hopeman believes that trend will skyrocket now.
"We expect more shoppers to find and stay on our website, and enjoy a better overall shopping experience, because of the site redesign and new inventory we've introduced," Hopeman said.
The ever-popular Adirondack chair has been a major draw for customers since the beginning, but the introduction of a wealth of new backyard patio furniture will make shopping with the company even more enticing. Adirondack chairs are expected to continue to generate a large amount of interest as a mainstay, too.
Hopeman worked with new and existing vendors, including All Things Cedar; Anderson Furniture; Caluco Furniture; Eden Outdoor Living; Great American Woodies; Lloyd Flanders; Oakland Living; Polywood; Shine Company; Siesta Furniture; Uwharrie Furniture; Cedar Delite, and Two Dog Designs, to bulk up its offerings.
Virtually all outdoor furniture categories have been updated as part of the site renovation, including additions to the signature Adirondack furniture section, patio dining sets, patio lounge furniture, outdoor patio chairs, outdoor patio tables, outdoor patio umbrellas, and patio accessories.
Now, customers will find more of everything they love at Premiere Adirondack Chairs, whether it's wood patio furniture, resin patio furniture, aluminum patio furniture, wrought-iron patio furniture, or teak patio furniture.
Furniture sets and individual pieces span a wide array of styles, from classic to contemporary, as well as price points.
Adding a full complement of outdoor accessories to the inventory at Premiere Adirondack Chairs has fostered a one-stop shopping atmosphere for customers, as well.
Charming patio accessories include garden trellis, garden gazebos, patio coolers, and garden stepping stones, as well as functional pieces. Customers who need all the bells and whistles for hosting will also find patio coolers, ice buckets, and serving carts among the wares at Premiere Adirondack Chairs.
Premiere Adirondack Chairs is a leading online provider of outdoor furniture. Founded in 2008, company is based in Natick, Massachusetts, about 15 miles west of Boston.