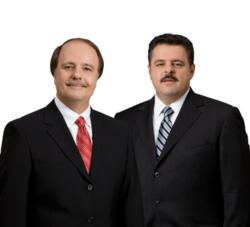 Franklin County, GA (PRWEB) November 17, 2011
According to the complaint, Truax, the 62-year-old woman from Carnesville, Georgia, represented by Farah & Farah, regularly brought her Chihuahua in for grooming to the Royston Animal Hospital in Carnesville. On March 20, 2008, as was argued in the case presented by Farah and Farah, the woman brought her dog to the animal hospital's new building. Although a long-time client, this was the first time the woman had visited Royston's new clinic. At trial, Farah and Farah's Brunswick, Georgia attorney, Kevin Elwell, presented a diagram to show the 12-member jury the normal traffic pattern and how the female plaintiff had been motioned to the exit door in a departure from the normal traffic route. When she rounded a blind corner, Truax tripped and fell on a wide, flat weight scale placed on the floor in the hallway of the place of business, according to the complaint. Truax broke her femur above the knee and has a plate and screws permanently implanted in her leg. As stated in the complaint, attorney Elwell emphasized that the plaintiff has incurred $73,000 in medical expenses as a result of this preventable trip and fall accident.
The defense attorney for Royston said the large scale was in an open and obvious place and did not contribute to the trip and fall, but attorney Elwell argued and proved that the plaintiff could not possibly have seen the scale from the angle she was directed to walk since it was out of view and she would have had to have been staring at her feet as she walked. Moreover, as the law states in Georgia, a person is not required to look continuously at their feet to take due care when traversing on another person or business' premises.
Elwell says their arguments survived a summary judgment motion and the insurer for the animal clinic, State Farm, made no pretrial offer to settle.
The 12-person jury decision was unanimous and the woman was awarded $200,000. Co-Counsel, Bruce Maxwell, from the Johnson & Ward law firm in Atlanta, GA assisted in the case.
For decades, the law firm of Farah and Farah has provided individuals injured by another person or entity's negligence with the quality legal counsel and representation that they deserve. As a legal team dedicated to protecting the rights of its clients, the personal injury lawyers at Farah and Farah have the experience, resources, and knowledge to obtain successful case results so injury victims and their families can move on with their lives.
Sharon Truax v Royston Animal Hospital P.C., Case No. 10-FV-297-H/J
Superior Court of Franklin County
The Hon. John Bailey, presiding
###