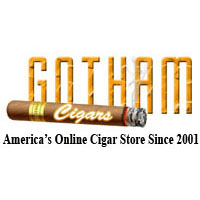 Gotham offers one of the largest collections of high quality cigars, humidors, custom lighters and tins in the entire US
New York, NYC (PRWEB) November 24, 2012
Gotham Cigars introduces very tempting Nicaraguan handmade cigars: Don Lino Africa Gordito Torpedo Cigars that use premium blends of African, Dominican, Honduran, and Nicaraguan tobaccos. These cigars feature a Nicaraguan binder and are wrapped in a dark and oily Nicaraguan leaf. These gordito cigars may be small in stature but are big on taste with full flavors of earth, spice, and coffee that are sure to please any cigar enthusiast. Gotham has made these cigars available for just $24.99 for 10 sticks. You can buy them right here at this leading online cigar store and they are ready to be shipped at any time.
The Don Lino Africa Gordito Torpedo Cigar is the creation of Nestor Miranda, a master cigar blender who was inspired to create the Africa cigar line after returning home from a trip to Africa. Nestor Miranda was so inspired by his trip he decided to make the Don Lino Africa Cigars as a tribute to everything that is Africa.
Gotham offers one of the largest collections of high quality cigars, humidors, custom lighters and tins in the entire US. They showcase and sell almost all the major and high quality brands. These cigars are divided into categories like machine made cigars, premium cigars, filtered cigars and little cigars. At Gotham, cigar lovers can get the freshest products at unbelievable prices. Their selection of premium cigars consists of more than 150 different styles and brands. The online store has more than 30 different brands of machine made cigars.
Gotham Cigars has been America's leading online cigar store since 2001. They offer a massive inventory of superior traditional cigars, affordable flavored cigars, highly ranked sticks from Cigar Aficionado, and daily deals. This allows customers to try some of the best cigars on the market at rock bottom prices. Gotham is a division of a larger nationwide wholesale tobacco company, which is why they are able to carry a sizable inventory. All of their cigars have been thoroughly inspected by their manufacturers prior to arriving at the facility. To find out more log on to http://www.gothamcigars.com