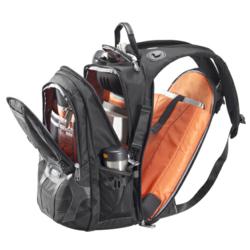 No longer must you fumble about for your sunglasses in a cavernous compartment or worry about breaking your expensive eyewear or leaving them on a plane.
Irvine, CA (PRWEB) August 28, 2012
Everki, trusted manufacturer of versatile, high-quality laptop bags, is proud to introduce its latest effort: a laptop backpack that offers features in spades. In addition to the customary functional features that one comes to expect from an Everki bag – dedicated felt-lined slots for both a laptop and an iPad/Kindle/tablet and a variety of cleverly arranged storage pockets and organizers – the Concept Checkpoint Friendly Laptop Backpack also sports some rather innovative features not commonly found in a laptop bag.
Among the Concept's exciting features is a hard-shell sunglass case, located conveniently at the top of the bag. No longer must you fumble about for your sunglasses in a cavernous compartment or worry about breaking your expensive eyewear or leaving them on a plane. Another unique feature is the Concept's patent-pending corner-guard protection system – molded shock-absorbing pads in the bag's Checkpoint Friendly laptop compartment that protect notebook corners, which are the areas manufacturers have identified as the most commonly damaged. Everki wraps all these and many more features in a stylish, ballistic nylon exterior that comes accented with top-quality leather and metal elements.
"If the customer is looking for a cheap bag with a ton of features, there are plenty of options out there," says Vyrio Ngo, Everki's Director of Sales. "If he wants a nice, high-end bag with limited features, there are a few good options available. The Concept, however, brings the best of both worlds. The wearer can now safely and conveniently bring along all of his gadgets and whatever else he needs most and still look good carrying them around."
With all of this bag's storage capacity, Everki had to go the extra mile to ensure its owner's sustained comfort. For the weary traveler, the company threw in a pair of pillow-soft straps and an ergonomic, padded back panel that pitch in to help shoulder the load over long periods of time. Additional mesh padding and deep airflow channels also work to keep the wearer dry, cool, and comfortable every step of the way.
The Concept Checkpoint Friendly Laptop Backpack retails at $295 and is available through Everki's online store. For more information on this bag and all of Everki's other premium products, visit everki.com.
About Everki:
Everki is a California, USA-based manufacturer of high-quality, stylish and innovative lifestyle products that carry and protect the digital equipment we use every day. Everki products package comfort, convenience, and versatility in functional and ergonomic form and present them with a professional touch. The company distributes throughout North America, Australia, Asia, Africa, and Europe and caters to customers looking for functional luxury. For more information, visit Everki's website at everki.com.
Copyright © 2011 EVERKI International Co. Ltd. All rights reserved. Everki and Everki logo are registered trademarks or trademarks of Everki International. Other company and product names may be trademarks of their respective owners.
###