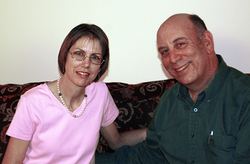 According to Edward, "it is beyond expectation.. absolutely Magical".
San Francisco, CA (PRWEB) April 12, 2011
April 2nd was a memorable day for Iris Lee and her boutique pearl jewelry company Premium Pearl. She personally handed a unique custom pearl necklace to Edward Mooney Jr., the author of the highly praised novel, "The Pearls of the Stone Man". This touching literary work, often compared to "The Notebook" by Nicholas Sparks, has been turned into a compelling screenplay. As soon as the final lead actors are locked in, it will be made into a Hollywood movie produced by Legacy Entertainment this spring or early summer.
The pearl necklace plays an important role in the movie and is a metaphor for the memorable events we string together during our lifetime. Mr. Mooney was not satisfied with the generic necklace the director had chosen and went on a mission to create one of his own. Through his online searching, he discovered Iris Lee and PremiumPearl.com. Iris agreed to read the book and see if it inspired her. It did. Iris was so moved by the story that she set to work immediately and collaborating with Edward, came up with a uniquely special piece. According to Edward, "it is beyond expectation….absolutely Magical". "Iris, you are a true artist. I saw that in your work, in your eyes, and in your words. You only make that which is art". He now refers to Iris as "The Pearl Queen".
Because this was a first time opportunity to design for a major Feature Film, Premium Pearl wanted to record the event. Edward being the gracious, bighearted person he is, agreed to meet in Monterey and videotape an intimate one on one interview.
In this poignant interaction, Edward felt comfortable enough to reveal his inner process, motivation and direction for writing this wonderful book and the ultimate goal of his communication through his characters. He also explained and delved into the metaphor of Pearls as the symbolic gift. There was laughter, tears of joys and heartfelt words that were as moving as the wonderful book itself. The word special doesn't even begin to describe the magic that filled the room and the touching words that were spoken.
Premium Pearl is honored to have been given the opportunity to be a part of this incredible adventure. It will be releasing a special signature, limited edition of the pearl necklace later this year.
###