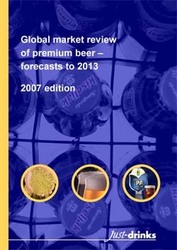 Our current estimate is slightly lower than this (closer to 15%). However, this may be due to the brands we categorise as premium rather than a fundamental disagreement about the size of the category
Bromsgrove, Worcestershire (PRWEB) August 8, 2007
The global premium beer market has rapidly increased since 2000, and this trend is set to continue for at least the next six years. Global sales by value of premium beer will increase by 60.3% to US$242bn between 2006 and 2013, according to research undertaken by drinks industry website, http://www.just-drinks.com
There is no precise common definition of premium beer, but the defining characteristics are generally the high alcohol content and the status the beer has within consumer groups. Some people seem to think that 'premium beer' is more of a marketing concept than a precise product definition.
Currently there are eight international players within the competitive global beer market, all of whom have differing views on the size of the market. In 2006 just-drinks estimated the proportion of total beer sales accounted for by premium beer to be 20%, when SABMiller was asked to comment on this they stated "Our current estimate is slightly lower than this (closer to 15%). However, this may be due to the brands we categorise as premium rather than a fundamental disagreement about the size of the category".
While the industry players differ on the size of the market, there is a consensus that premium beer is the most dynamic sector of the global beer market.
The major players within this global market are leaning towards a new trend of producing premium beer portfolios and are concentrating on producing local premium brands. These local brands are designed for particular regions and different markets within each region. Graham Mackay, CEO of SABMiller told just-drinks, "The worldwide trend towards premium brands makes the segment the fastest growing in the global beer market", going on to say, "Within this segment it's the international brands that are growing most rapidly at nearly four times the rate of the beer market as a whole. To compete in this segment, we have a portfolio of international brands, each with its own distinctive personality and attributes."
To discover the trends of this growing global market, with details of the eight major industry players you will need the full report published by just-drinks, 'Global market review of premium beer - forecasts to 2013' which, is available to purchase at http://www.just-drinks.com/premiumbeer.
About just-drinks
Since 1999, http://www.just-drinks.com has developed into the leading and most respected growing drinks industry trade site globally. The site's unique news and research content is produced and sourced via a dedicated editorial team, worldwide network of correspondents and content partnerships. In addition, the just-drinks.com research store provides instant access to over 4,000 market research reports.
###