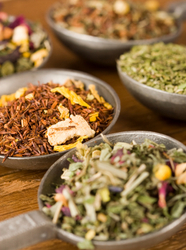 Carol Stream, IL (Vocus) April 6, 2010
Loose tea experts ESP Emporium have announced the recent addition of the "Shop Tab" to their Facebook fan page, which allows users to browse through over 180 different products including a wide variety of specialty teas, tea-themed gift sets, sampler packs and other tea-related offerings, without having to leave the Facebook site. Once a product has been selected, users are then directed to the ESP Emporium website where they can complete the purchase as they normally would, in a secure online environment.
"Since our first Facebook promotion began last month, our fan base has nearly doubled and several of our customers have mentioned how convenient it would be if users were able to browse through some of the tea we offer while visiting our Facebook page, as opposed to having to open a separate browser window or leave the Facebook website in order to do so" said Elena Popec, co-owner of ESP Emporium. "We've received very strong and positive feedback about the social gathering that Facebook helps to create around our selection of premium teas, so it makes a great deal of sense to infuse our broad product offering into our Facebook community".
In February, 2010, ESP Emporium launched a promotion that offered a chance to win a three-month subscription to their "Tea of the Month" club, simply for becoming a fan of the ESP Emporium Facebook page. As more users become fans of their Facebook page (in 5000 fan increments), subsequent random drawings will be held, until August 31, 2010.
As well as updates and insights, customers who follow ESP Emporium on Facebook will also have access to random rewards such as incentives, promotions and discounts towards their next purchases of specialty tea or tea-related products. 
For more information about this announcement or ESP Emporium's Facebook page, please visit their website (http://www.ESPEmporium.com), or contact Steve Popec at 1-866-810-1818.
 
About ESP Emporium
ESP Emporium is a flourishing tea company offering an assortment of premium loose teas and tea-related accessories in the USA. Grown globally, their tea selection includes black teas, green teas, half fermented teas, flavored teas, fruit tea blends, Rooibos tea , herbal teas and more.
###